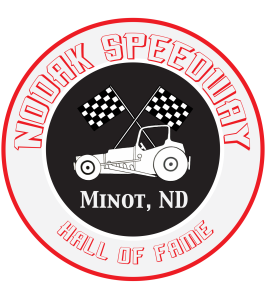 2020 marked the start of the 68th  season for the Nodak Racing Club. The club is believed to be the longest running un-interrupted race club in the nation. After World War II came to an end, the United States was trying to get back to life as we knew it before the wars. In the 1950s Auto Racing started to grow all over the Country.  The club was started by a handful of young racing enthusiasts that enjoyed tinkering on and racing their cars against each other. However doing so on city streets and state highways was frowned upon by the local law enforcement groups, so they started looking for a place where they could race. The group of guys found an open area of land and quickly made it into an impromptu race track, which today is the location of the Nash Finch warehouse on Burdick and 16th Street.  Later that year in 1951, they headed east just a little bit, where Jim Hill and Magic City Campus are currently located. The two areas were used to get together and "hot rod" around; they were not under an organized race format on a designated race track at that time.
In 1952 some of the past years racers along with a few new drivers decided they wanted more direction and organization. They made the decision to create a club, The Nodak Racing Club.  The Nodak Racing Club was chartered in a local house on Burdick Expressway, the current location of the M&H Gas parking lot. Doug Amundson, Don Berg, Jim Bergo, Bill Delong, Lehre Evenson, Dave Hammer, Claude Hanson, Al Hochsprung, Andy Nikitenko, Gary Olson and Bob Rittgers became the founding fathers and the Charter Members of the club.
With the help of one of its members, C. Morris Anderson, the race club had a place to race. He provided a spot on North Hill just west of the current North Hill Bowling Alley. The first real organized season of Auto Racing in Minot was ready in the summer of 1953 on the North Hill Track. The Markle and Thompson Construction Company helped build the track, and Lehre Evenson became the first President of the race club.
After their incorporation as a group they drew up the first rules of racing for the track, from car and engine specifications to the organized race format itself. The members used old coupes and cars from the 30's and 40's. Many of the race cars had oil barrels for seats, and some had wood for wheels and doors, and it was not a surprise to see ropes as seat belts. The club ran a Class A and a Class B division in the early years.  The A class being the large 8 cylinder motors, and the Class B being 8 cylinder flat heads or 6 cylinder motors. The first four seasons there was even a C Class for new racers.
The club members decided that to grow the club, they needed a grandstand to put fans in instead of having them watch from the hood of their cars. Thus after one year on the North Hill Track, the club decided to strike a deal with the Fairgrounds for the 1954 season. They had a wood grandstand and horse race track already in existence, and had also held Auto racing at the track previously. Horse racing went away from the fairgrounds and track was then changed to two separate tracks for racing. They had a quarter mile track for regular shows, and a half mile track for large race events, such as the popular races during the State Fair. The State Fair was not designated the North Dakota State Fair until 1965. To this day the Nodak Speedway is still located at the fairgrounds.
This period of time was known as the Golden Years of racing at the speedway, when the auto racing was at its high point in the state. A new second-generation state of the art metal grandstand was built in 1958, and was packed to the rafters every week for the races.
In 1963, after years of coupe style cars, the club adopted the Super Modifieds and the Hobby Class as their two classes of cars. The club making the jump to open wheel race cars as one of the divisions was the largest changes to date for the Nodak Speedway. The Hobby Class consisted of 1950 model cars, and the Super Modified was what looked like a sprint car without wings. These classes remained steady until 1969, when a Super Sprint category was added to the show. The name tag of Super Modifieds went away the following year, leaving the Super Sprint class as the only open wheel class in the club format.
In 1971, the club went to a new generation of car bodies changing the Hobby Stocks to a Modified Stock class. Since that 1971 season, many more classes of race cars have come and gone to what the club runs now. A Late Model division appeared in 1972, which were cars that had been produced in the 60's and 70's. In 1978 the club made another huge change by changing to just one track, a 3/8 of a mile track that at the time was advertised as the "fastest track in America."
As the club continued to grow to become one of the largest race clubs in the Midwest, a lot of different types of classes ran at the track, including Street Stocks, Super Stocks, Mini Stocks, Thunder Trucks, and the debut of the open wheel Modifieds in 1985. The club ran a Wissota Modified and Dakota Modified division, and now in 2015, the classes of Modifieds are IMCA Modifieds and Sport Modifieds. Legend cars were added to the regular program in 2005, which was the last class of cars added to date at the track. The classes going into the season of 2020 are IMCA Modifieds, Sport Mods, Stock Cars, Hobby stocks, and Sport-Compacts.
To this day many drivers will still say that the Nodak Speedway still boasts the best competition level of all tracks in the state. Because of that it is one of the hardest places to win a championship at, or even one feature race. The Board of Directors of the club today are excited for the upcoming season and the continuing tradition of the Nodak Race Club. With car counts normally over 100 cars per night, the annual World of Outlaw sprint car show, and numerous special nights like the annual Dakota Classic Modified and Stock car tour, the club races into the future.  A brand new third-generation state of the art grandstand is the new crown jewel of the fairgrounds. It has more available seating by far over the previous two grandstands, and is also a large bonus as the race club heads into the next decade of racing.
– Larry McFall, Nodak Hall of Fame Inductee
Fan vote closed for 2020!
RICK AUKLAND
DRIVER
DOB: APRIL, 25 1956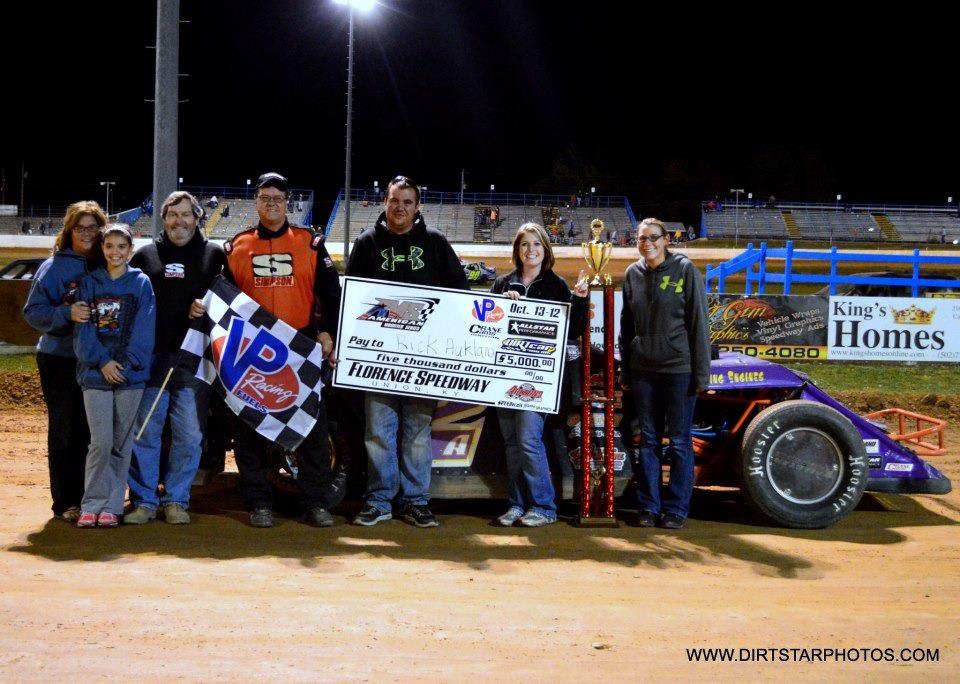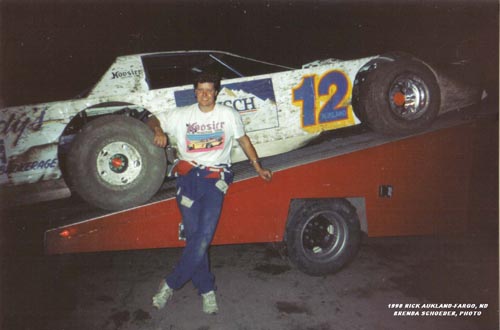 Rick started his racing career in 1978 at the dirt tracks in Lisbon and West Fargo. It didn't take long for him to establish himself as one of the best Late Model and Modified drivers in the upper Midwest.
Rick started coming to the Nodak Speedway in 1981, and it was a frequent occurrence to see his name in headlines of the Minot Daily News in the Sports section almost every Monday morning with another win. Auklund raised the bar for other Late Model and Modified drivers in the area, as his success forced the other elite drivers of the area to pick up their programs just to keep up with the now famous number 12 car.
He captured the Nodak Speedway Late Model Championship in 1982, and then returned the next season to nab the 1983 Harvest 100 Championship. It has been said that even though Auklund only ran at the Minot track for several years, his dominance in that time frame helped the other drivers in the region to upscale their programs to try to stay with Auklund, which helped the local racing improve to another level. Auklund has captured over 800 feature wins in his illustrious 40-year driving career. After his years of visiting the Nodak Speedway, Rick went on to become a car builder with Bob Sagen in 1985 by producing the Pro Chassis.
Rick then took his late model program up another notch by racing with the World of Outlaw Late Models for several years, and also spent a lot of time in the Lucas Oil Series, the All-Star Series, and also raced Sprint cars for a time along with many other affiliations too numerous to mention.
Auklund's victory list over the years included the Wissota 100 at Cedar Lake, the Silver 1000 at Proctor, the Jamestown Stampede, and the Hibbing Labor Day Shoot Out and Minot's Harvest 100.
Auklund's best season was in 1997 in his Late Model, as he won the USA Nationals, the Show Me 100 in Missouri, the North-South 100 in Kentucky, the Pittsburgher 100, and the Gopher 50 in Owatonna. All in ONE YEAR.
Rick is a 2005 Inductee of the National Dirt Late Model Hall of Fame, and a member of the River Cities Hall of Fame in Grand Forks, as he was inducted in 2018. Rick now lives in Zanesville, Ohio, and now at the age of 64, still races part time in the area.
JIM CLIFFORD
FIRE CREW VOLUNTEER & PRESIDENT
DOB: August 30, 1953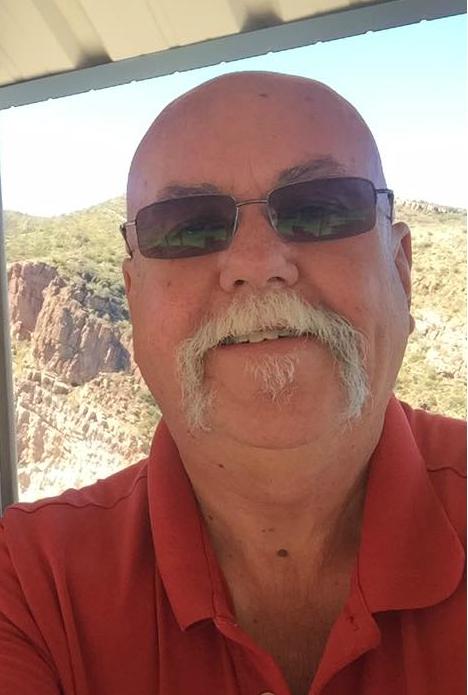 Jim Clifford grew up around racing. He first attended the races with his mother at the Fairmont Speedway in Fairmont, Minnesota and the Jackson VFW Speedway in Jackson, MN. Jim joined the Air Force in 1972 and was stationed in Minot, ND. He first came to Nodak Speedway as a firefighter during the summer of 1972. He provided Fire Emergency Services under Fire Chief Kenneth O. Gillespie, and in 1973 and 1974 Clifford took over as Nodak Speedway's Fire Chief.
As he was just beginning his fire career at the Nodak Speedway, Clifford was given orders to Taiwan. He didn't stay away too long though, as he was back in 1976 providing Nodak Speedway with Fire Emergency Services again. Jim moved back home to Minnesota in 1979 and helped provide Fire Services to the Fairmont Speedway and Jackson VFW Speedway, but then shortly moved back to Minot in 1982. Clifford then took over the Fire Crew as the Fire Chief again from 1982 to retiring in 1996. Clifford had been retired from providing Nodak Speedway with Fire Emergency Services for 13 years, and was called in 2009 to come out of retirement and organize a Fire Crew once again.
Clifford has since been Nodak Speedway's Fire Chief, with his son Jed now by his side. Jim has now provided over 25 years as a firefighter at the Nodak speedway. During the 80's and 90's Jim was a jack of all trades at the Speedway he provided track maintenance, ground flagging, and provided his pick-up for anything that needed to be done at the track. Clifford was also Nodak Speedway's President in 1985. Clifford proved to be a successful leader by being involved with paying off a $20,000 loan and purchasing a water truck and the first road grader for the club.
He was also involved on the Board of Directors when the IMCA Modifieds were introduced at the Nodak Speedway in 1997 Jim continues to be a great friend and fan of the Nodak Speedway.
TERRY FAUL SR.
DRIVER & Volunteer 
1941-2017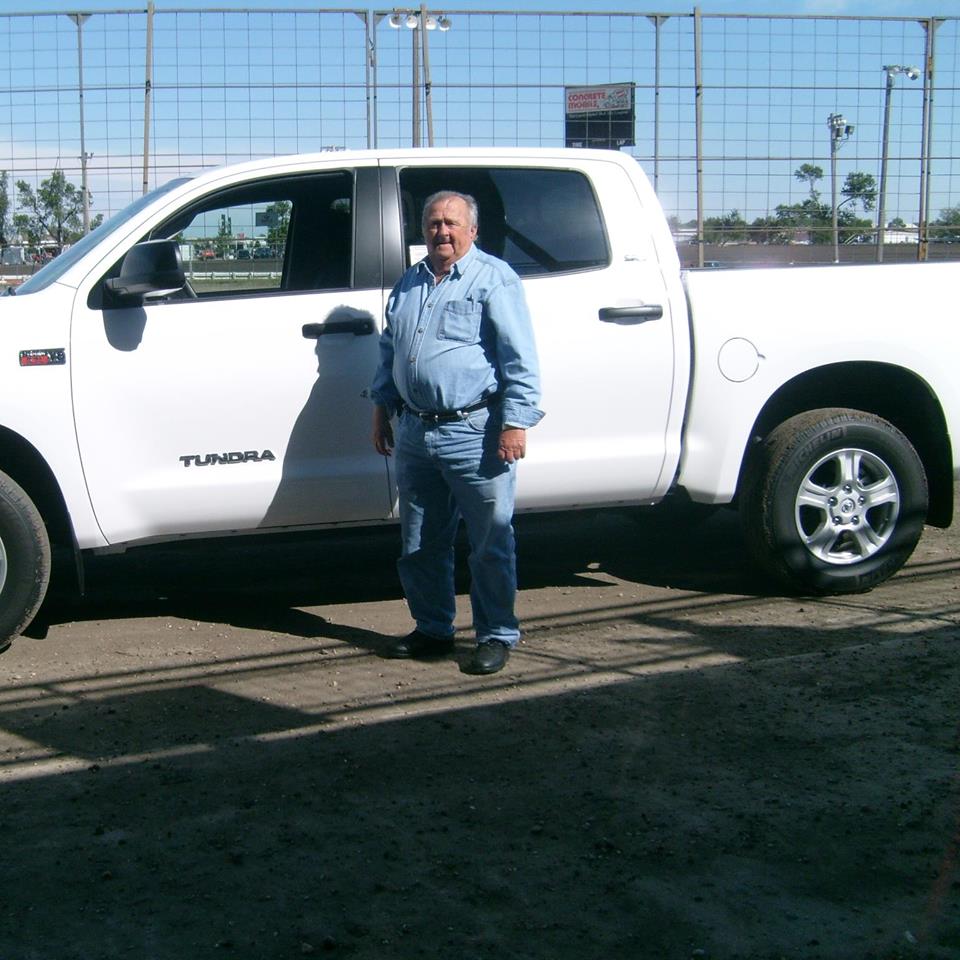 Terry Faul's association with the Nodak Race Club began in 1963 when he started attending races.
For the first 10 years, Terry was a spectator in the grandstands, but in 1973, he joined the "Flash" Mylon Ash racing team as a pitman. He was a member of Ash's team for four years until 1977. Also, in 1977, his dad John Faul won the oldest father award at the age of 82.
In 1978, Terry bought a Street stock and raced until 1980. Terry didn't collect any wins in his short stent as a driver, but he was one of the drivers that raced in the first Harvest 100. He was also the first driver to roll on the new 3/8-mile track that we now reside at on the North Dakota State Fair Grounds in 1980. This lead him to receive the hard luck award from the Nodak Race Club.
Following the 1980 race season, Terry continued to support the Nodak Race Club by attending the races and in 1987 he came out of retirement to pit for his son Terry John Faul. He did that until 1989. During the span between 1988 and 2017, Terry officially retired to the stands where he was a major supporter of the Nodak Race Club and had the distinct opportunity to watch and cheer on three generations of his family in the Nodak Race Club family. This included his son Terry John, his son-in-law Alan Medler, his grandsons Nathan Medler, Justin (Smalls) Medler and Darren Medler and his granddaughter McKenzi Faul. Terry was called upon many times in his retirement to drive the pace car and even with failing health he was always there at the races until his health problems prevented him from attending, but never missed a race still and watched it on Darn TV.
Terry loved racing. It was what his family did and was his life. Terry's love of racing is a legacy to his life and for the lives of his five children, seven grandchildren and 4 great grandchildren.
Loretta Joern
AUXILIARY PRESIDENT & Volunteer
DOB: MARCH 1, 1944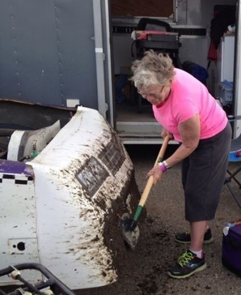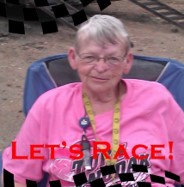 Loretta attended races with her husband Chuck Joern. Chuck started racing in 1965 with his Uncle Stan Pierson. The duo raced cars #155 and #152.  Loretta never missed a race supporting the duo.  
In January 1969, the wives of the drivers joined forces and created the Nodak Women's Auxiliary. The Auxiliary set in motion on January 28, 1969. Loretta Joern was elected, as the First President of the Women's Auxiliary. She held this position for a second term, as well as other positions, until the Women's Auxiliary was dissolved in 1977.
The Women's Auxiliary provided weekly bake sales at Trinity Hospital, sponsoring trophies for the best-looking car at the Town and Country Car Show. Loretta and the other wives would serve lunch to club members after races. They sent children to the Y-camp, also taking part in the Cancer drives, and catering foods for annual picnics. The Auxiliary donated wheelchairs, toys, and games to the St. Joseph's pediatric ward. After all their recognition, the Auxiliary was officially accepted as part of the Nodak Racing Club on November 1, 1969.
In 1973, they participated in March of Dimes for Mothers. They went door to door asking for donations in 1975 through 1976.  Donations were given to 4-H, Minot AFB, girl Scouts, Second Story, Muscular Dystrophy and Camp Owetti.
Loretta's love for Nodak Speedway did not stop there. She continued volunteering with her husband. They worked the Pit gate and drivers' sign-in, through the 70's and 80's. 
When her sons started to race, Loretta spent her Friday and Sunday nights watching them race.  Ron Joern hobby stock #55 and #18 completed twenty years in the hobby stock division. Ron currently resided in Bismarck, ND.  Scott Joern hobby stock #52 out of Minot, ND. 2020 will mark Scott's 25th year racing at the Nodak speedway. In 2005, her grandson Nate Joern #53 joined the hobby stock class with his dad Scott and Uncle Ron.
Nowadays, you will see Loretta in the Pits cleaning mud off racecars or sitting in the stands cheering on her grandson Nate and her sons Ron and Scott for the win!
Jesse Kluck
driver & volunteer
&
Bonnie Kluck
volunteer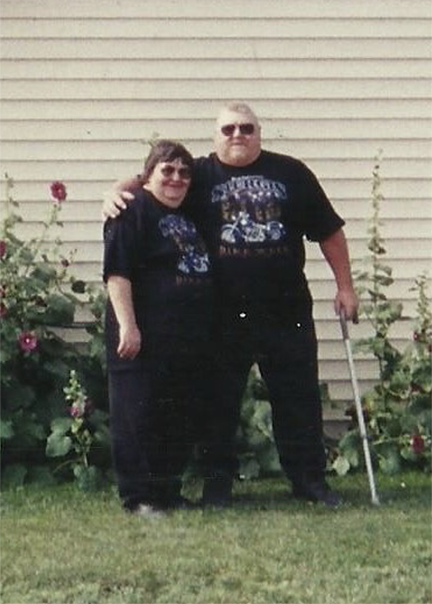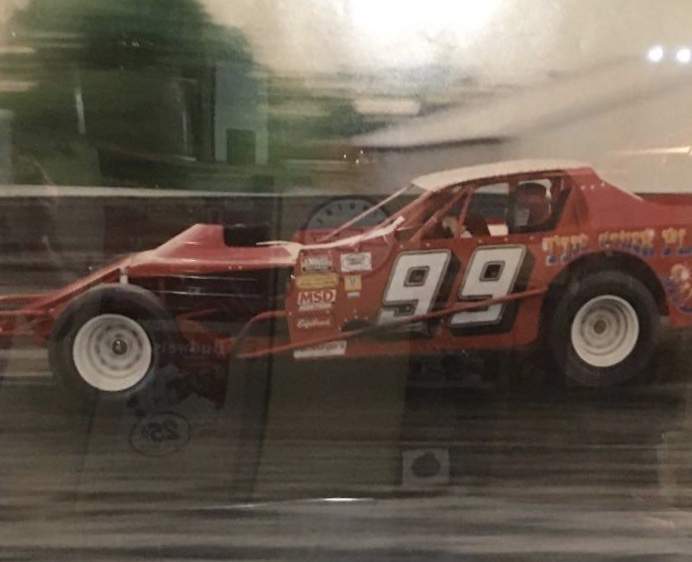 Jesse raced in Iowa before moving to North Dakota where he raced at the Nodak Speedway in the Street class in the late 70's. Bonnie helped at the pit window in 1978 through 1980. After a year or two she managed the pit window all by herself unless Nodak hosted a special. Bonnie did that for about 26 years while Jesse continued to race and pit for others. Jess also acted as a Pit Steward and ran the main gate. Their son Dorian Anderson they believed to be the youngest to wear the officiants striped shirt at that time. Gaining respect was a challenge. Not all racers were happy to pack muddy tracks when a 12-year-old sent them there. The Kluck family were actively involved until it got too hard for Jesse to get around in his four-wheel cart, retiring in the late 90's. Bonnie retired a few years later in 2002 and passed down the fun to younger gals.
GERARLD "OLE" OLSON –
PRESIDENT – BOARD MEMBER – CAR OWNER – PITMAN
DONATOR – TRACK SPONSOR – FAN
DOB: JANUARY 17, 1952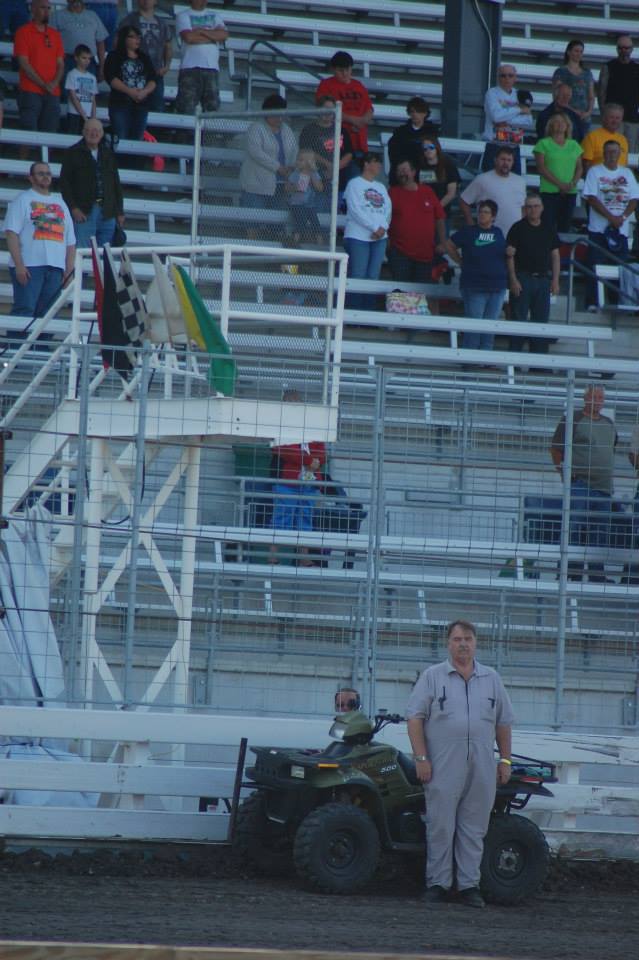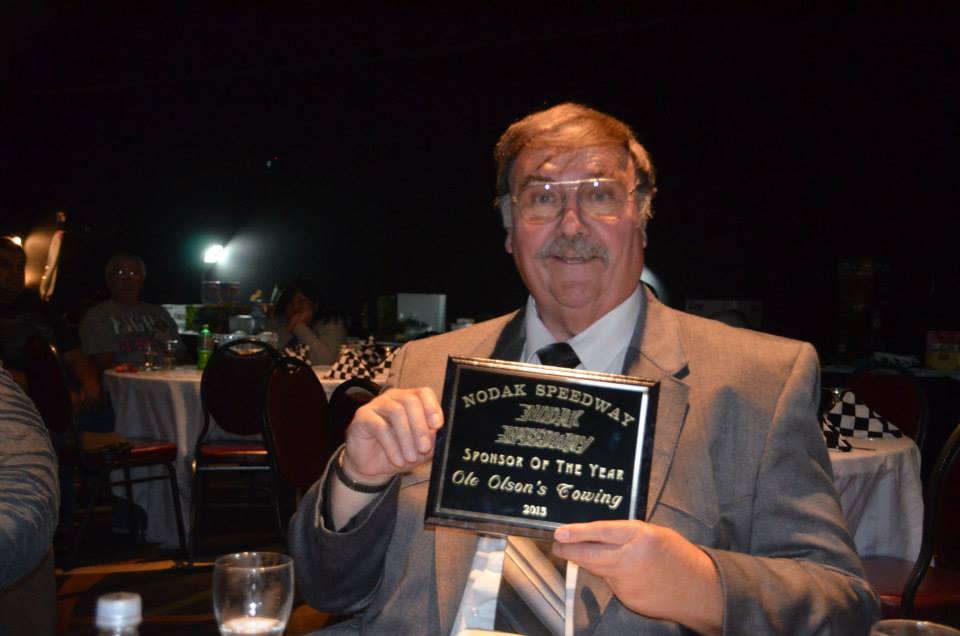 Ole began his enthusiasm for the Nodak Speedway at the early age of eight years old attending races at the track.  Ole began his employment at Bee Line Service and Ward Standard Service & Wrecker in Minot.  These events led Ole to become involved with the above-mentioned titles for his devoted time and wrecker service at his hometown track in Minot for over 50 years.
In 1970, he began Olson's Towing with a single truck.  In 1977, Ole purchased Bryce Aga's Owl Wrecker (Never Home) Service, and combined the two into Olson's Owl Wrecker.  He then further expanded, building his respectable fleet and business to become Ole Olson's Towing & Recovery.  At an early age in business, Ole committed himself at Nodak Speedway to provide essential quick response wrecker service.  Always ready for a push start to cars stalled out on the track, a wreck or a multi-car pile-up, clearing debris, and an eye for track conditions.  A service vital to the Nodak Speedway operations.  A one-of-a-kind behind the scenes man.  As the business and race track grew, going to the track directing his operations and ensuring every week that the equipment was meticulously ready to roll and perform.
Ole's leadership, with a keen eye and awareness, he implemented directives to promote safety with his crew and all involved at the track.  Notably the orange high visible clothing that the wrecker crew wore.  Especially in the early years the pits we're located at the infield of the track.  A tight space in those years.
Ole also was a pitman to hometown legends Hoss Hauge, Danny Schatz, Doug Groves, and Wyatt Olson.  Throughout the years Ole has donated trucks and equipment still in use today at the track.
His son, Wyatt Olson following Ole's passion, began racing in 2000 for 12 seasons at his hometown track Nodak Speedway driving car #57; Wyatt also raced in Rugby, Estevan, Mandan, Dickinson, and Williston.  Wyatt's impressive career highlights many feature wins and several track championships.  Wyatt was runner-up in the stock car class at the Super Nationals in Boone, IA.  Wyatt is recognized as 1 of 6 drivers in the nation to win 3 track championships in a single season in 2004.
Ole served 14 years on the Board at Nodak Speedway.
Board Member – 1981, 1997, 2008, and 2009.
Secretary – 1990 and 1998.
Vice President – 1991, 1992, and 1993.
President – 2010, 2011, 2012, 2013, and 2014.
Ole was respectfully inducted in the International Towing & Recovery Hall of Fame in 2009.
Ole Olson's Towing & Recovery continues today providing 24/7 service throughout the Midwest and Canada with wife Claudia, sons Wyatt and Dusty, daughter Rusti, and entire staff.
BARB KITTLER-SCHULZ 
CAR OWNER – car SPONSOR -track sponsor – fan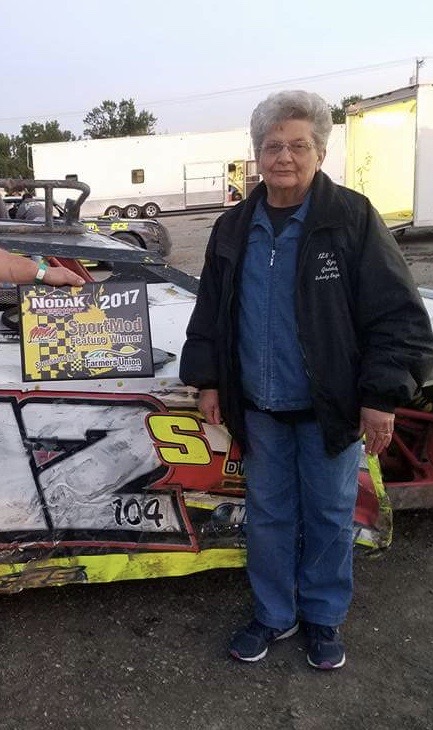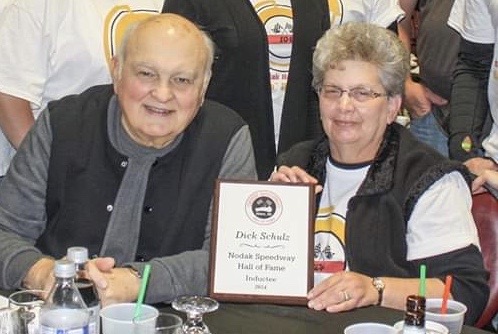 Barbara "Barb" Kittler-Schulz has been an avid race fan since the early 1960s when her husband, Harold "Harry" Kittler, started his lifelong passion for the sport that eventually led to an induction into the Hall of Fame. She has been involved in almost every aspect of racing with the exception of getting behind the wheel. She continues to be a sponsor of cars, tracks, and special racing events. Shortly after Harry's driving career came to an end in the 1970s, they started their endeavor as car owners until Harry passed in 2001. They owned everything from sprint cars to late models to modifieds. Some of their drivers included Hank Albers, Danny Schatz, Paul Schulz, Kevin Sondrol, Mike Tomlinson and Troy Kittler.
As a car owner/sponsor, Barb has been a part of over 50 feature wins, multiple championships (including a 2017 Nodak points championship), Harvest 100 title, Harvest Shootout title, Arizona Mechanical Shootout Weekend Champs, Harvestfest championships at the Geographical Center Speedway, Roughrider Modified Feature winner and qualifier, and Dakota Classic Mod Tour qualifiers.
Barb married Richard "Grumpy Dick"/"Grandpa Dick" Schulz in 2005. Dick's Hall of Fame career was already complete, but neither of them lost their love for the sport and remained involved in racing across the state. As a couple they sponsored a multitude of successful drivers and very rarely missed a racing weekend right up until Dick passed away in 2015.
Barb continues to be a staple member of the local racing community. She is a small town center piece and almost all of the racing success from the Turtle Lake area can be tied back to her influence in some way, shape, or form. She has been a driving force behind her family's continued involvement in racing.
GLORIA SCHUMAIER
VOLUNTEER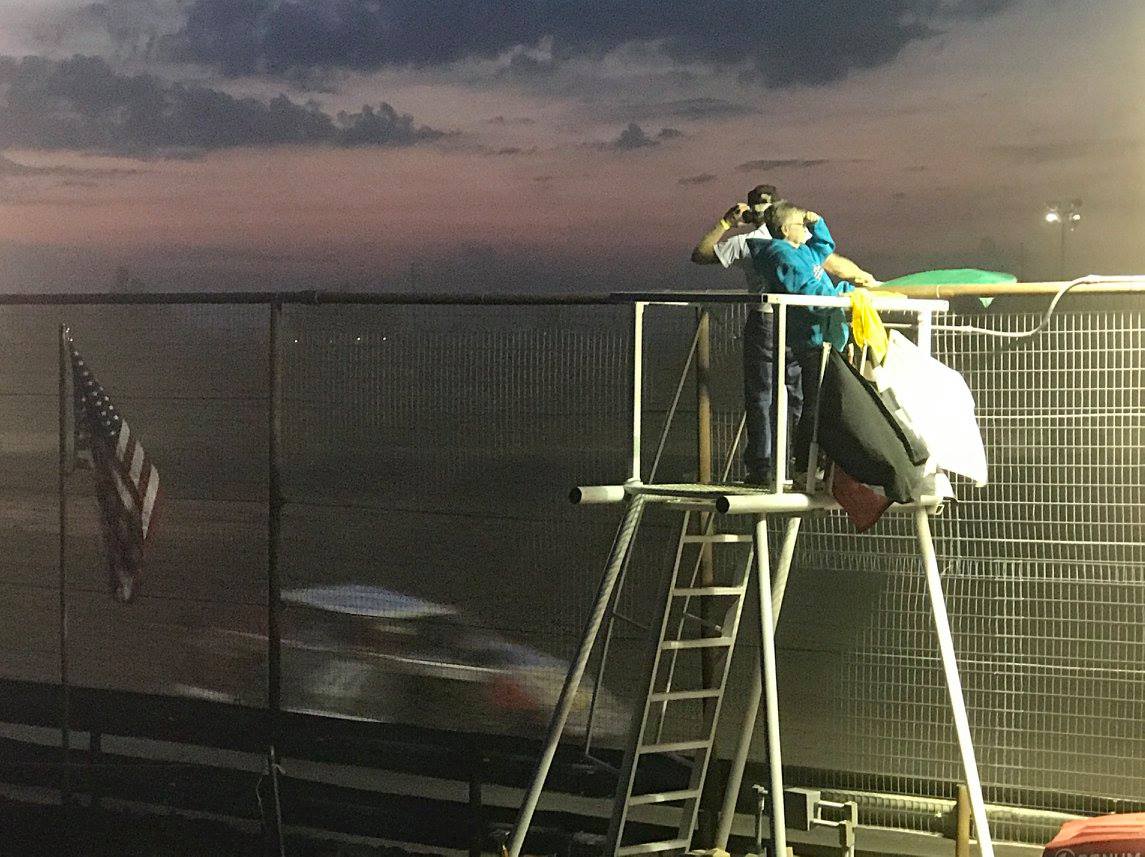 Gloria and her family started going to the Nodak Speedway races in 1954 at the North Dakota State fairgrounds in the old wooden grandstand. In 1975, Gloria was a pit-woman for her brother in-law, Henry Tarter Sr., she also pitted for her brother Rick Schmidt. In 1990 she met and fell in love with Glenn Schumaier a current Nodak Speedway Hall of Fame Inductee. Glenn was ran over by a race car in 1996, and that is when they started working together at the race track. Gloria began helping with the track preparations, picking rock, and packing the track. She also started helping with the Enduros, starting with the Brooking family and led to assisting current Hall of Fame Inductee, Tom Henderson. She also worked in the line-up crew down in the pits. Before technology took over, all the line-ups throughout the night had to be manually done. Gloria and Glenn flagged together at 5 different tracks throughout their stent of volunteering as well. Gloria has been a fan and supporter of the races for many years, racing has been very influential in her life, and she has been an asset to the Nodak Speedway race club.  
JIM WERRE
DRIVER – CAR BUILDER – PITMAN
December 19, 1938 – June 30, 1999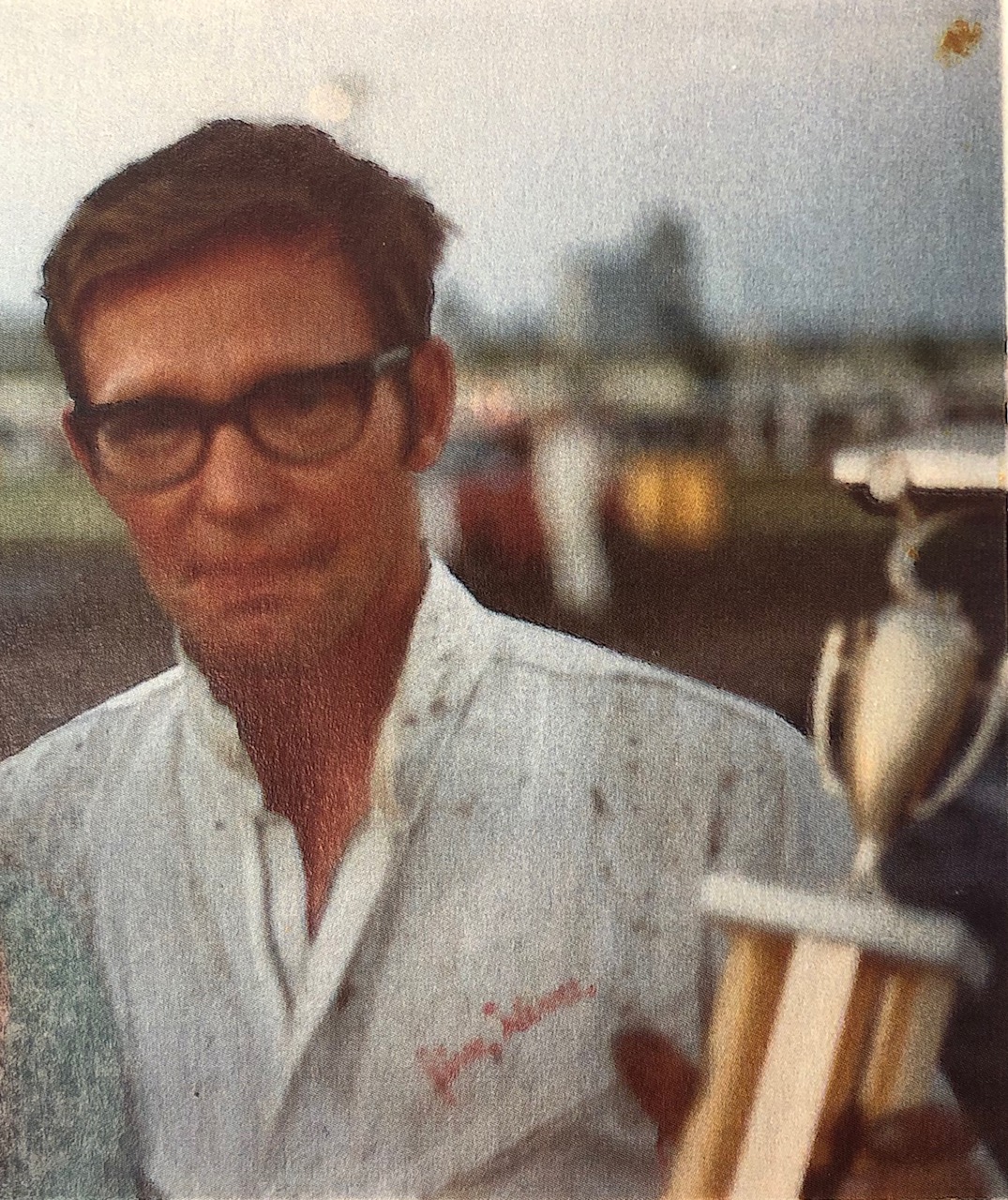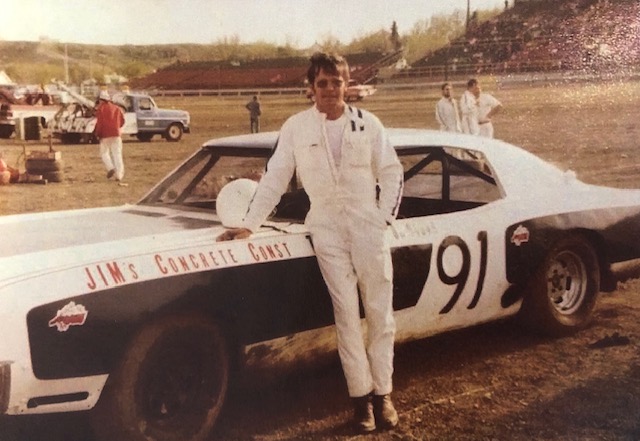 Jim was a member of the Nodak Speedway in Minot for 27 years from 1968 to 1995. He got started in the sport by pitting for his brother Larry Werre in 1968. He started racing at the Nodak Speedway in 1971 racing a Modified Stock Car #191, retiring in 1984 with his #5 car. He was also a member of the Missouri Valley Speedway in Bismarck, the Williston Speedway, and the McLean County Race Club in Underwood.
He started with Dakota Modifieds, Mini Stocks and Mini Mods. He built the very first Mini Late Model in 1991. Jim was always an innovator, loved dirt track racing and Nascar. He was his own car sponsor for over 13 years and his racing accomplishments were many. Crew Chief for his son Eddy, Mini Stock Season Champion, Dakota Modified Mid-Season Champion and Runner-up.
In 1991 Jim built and helped promote the Northern Pro IV Racing Association with Robert Rosselli, Rick Vondal, Curt Kjonaas and Eddy Werre. Jim and a few others built the 4-cylinder Mini Mods to build the racing circuit car counts. They came up with a set of rules, and Robert Rosselli promoted them. They raced throughout anywhere that would have them in North Dakota, Minnesota, and Canada. The Racing Association was such a success that Wissota bought it and took it over in 1995. Jim raced with Jim Corcoran's Racers on the Northern Racing Circuit with his #191 car. Jim enjoyed working on any race car by helping fellow competitors with new builds or repairs before race day. Jim was a great influence in his son Eddy's racing career, also which began in 1985.
Jim's family believes his racing career was more profound after he hung up the wheel. There wasn't anything beyond his capability to fix. He could fix anything. He was very influential to the people around him, his passion for racing and wrenching guided his son, and fellow racing friends to achieve greatness and in their own ways and on their own time. Jim was so good and so fast at fixing things his son Eddy broke a lower ball joint in Bismarck and he had it fixed before they even lost a lap. Or when they blew up a motor in hot laps and had it changed and back on the track for the heat race. He never gave up, and his family contributes their success to Jim!
He entered the Army in 1962 and served two years in Germany as a Sargent and was discharged in 1968. He worked for Peter Kiewit Construction in Montana and later on the Garrison Dam Project. He also worked for Minot Wrecking, Dan Geiger Construction and Mel's Concrete. In 1977 he began Jim's Construction in Minot which he owned and operated with his son Eddy until the time of his death in 1999.
Nodak Speedway Hall of Fame Nomination & Induction Process

A 13-person Nominating Committee will meet between the months of December and January to select the list of up to 15 nominees.
A 19-person Voting Panel + Fan Vote. The 19-person voting panel includes the members of the Nominating committee plus additional Hall of Fame Inductee representatives will vote on the Nominees to be Inducted. Collectively the Voting Committee will be a 20-person panel.
Each Committee Member will vote for 3 Nominees of their choice. The top 3 Nominees from the Fan Vote will be the Fan Nominee votes. Nominees with 70% of the vote will be inducted.
Example: 20-person panel – 70% of the vote would be 13 votes
The Hall of Fame Chairperson will outsource a Vote Counter. Vote counts for each Nominee will not be announced to the Committee or general public. The Vote Counter will only announce the Inductees with 70% of the vote.
If any member of the Nominating Committee or Voting Panel appears on the current year's ballot. These individuals will be recused from participating in the nominating and voting process for as long as he or she appears on the ballot. If the individual is inducted, he or she will be automatically reinstated to participate on the committee the following year.
No more than one Nominee that is directly related to a Committee member can be considered on the ballot. If any Committee members are related to a Nominee, they will be recused from the voting process for as long as their relative remains on the ballot.
If the Chairperson is unable to fill all Committee member positions, the Committees may operate at a minimum 7-person Nominating Committee. If the Committee is unable to meet the 7-person capacity Hall of Fame Nominating and Inducting will cease for that season, and reinstate the following year.
WHO IS ON THE NOMINATING COMMITTEE AND VOTING PANEL?
The nominating Committee consists of representatives from Nodak Speedway, General members, and Hall of Fame Inductees.
The Voting panel will consist of the members of the Nominating Committee, former Nodak Speedway Presidents, and four additional Hall of Fame Inductees.
HOW DO HALL OF FAME MEMBERS BECOME APART OF THE COMMITTEE AND VOTING PANEL?
The Chairperson will contact each Inductee via mail, email, Facebook, etc. each year requesting a response with a deadline on interest in serving on the Committee. If you are an Inductee and are not receiving a request, please email kadiruby@gmail.com or message the Nodak Speedway Hall of Fame Facebook page.
HOW DO GENERAL MEMBERS BECOME APART OF THE COMMITTEE AND VOTING PANEL?
Contact Kadi Ruby if you are interested in being apart of the Nominating and Voting Committees. Email: kadiruby@gmail.com or message Facebook: Nodak Speedway Hall of Fame page. The request deadline will be posted on the Nodak Speedway Hall of Fame page at the end of each year.
HOW WILL COMMITTEE MEMBERS BE CHOSEN IF THERE IS MORE INTEREST THAN POSITIONS AVAILABLE?
If there is more interest than spots, the chairperson will take all names and randomly draw to fill the spots. The following year those Committee members will be recused from participation, unless the interest is not there, then they are eligible to participate. The names that did not get drawn will have first priority the following year.
DRIVERS

Participated in competition for minimum of 25 years

Must be retired for 3 years

If driver has raced for 40+ years, they do not need to be retired

CAR OWNERS

Has had a car in competition for minimum of 25 years

PITMAN

Has wrenched for a minimum of 25 years

Must be a type of person who will help anyone

BOARD MEMBER

Must have served the maximum terms set forth according to the current Nodak Speedway bylaws

Has held a minimum of 2 different positions

OFFICIALS
VOLUNTEERS
EMPLOYEE

Must have volunteered their time for the club for minimum of 25 years

Must be retired for 3 years

If officials, volunteers, or employees have committed their time for 35+ years, they do not need to be retired

SPONSORS/DONATOR

Must have sponsored or donated to the Nodak Speedway for a minimum of 15 years

FAN

Must have attended the Nodak Speedway races for a minimum of 30 years

ALL NOMINEES

Must have held a Nodak Speedway membership

Must be minimum of 50 years old

Individuals may also be considered who made significant achievements in the sport, but left the sport early due to a variety of circumstances
2020 NOMINATING COMMITTEE
(13 Person Committee)

Hall of Fame Chairperson

KADI RUBY

Nodak Speedway President

BRANDON BEETER

Current Nodak Speedway Board Member

SCOTT JOERN

Hall of Fame Inductee

DALE & BETTY NORDSTROM

Hall of Fame Inductee

MARLYN KORSLIEN

Hall of Fame Inductee

LARRY SCHIMMELPFENNIG

Hall of Fame Inductee

LARRY MCFALL

Hall of Fame Inductee

MILT KORSLIEN

Hall of Fame Inductee

UNFILLED

General Member

CHRIS REUER

General Member

BECKY MEDLER

General Member

BONNIE JOERN

General Member

CELESTE SIMMONS
2020 VOTING PANEL
AMENDED VOTING PANEL PENDING BOARD APPROVAL – MARCH 2020
Official 2020 Vote Counter – Brianna Strachen

Hall of Fame Chair-Person

KADI RUBY

Nodak Speedway President

BRANDON BEETER

Current Nodak Speedway Board Member

SCOTT JOERN – RECUSED

Hall of Fame Inductee

DALE & BETTY NORDSTROM

Hall of Fame Inductee

MARLYN KORSLIEN

Hall of Fame Inductee

LARRY SCHIMMELPFENNIG

Hall of Fame Inductee

LARRY MCFALL

Hall of Fame Inductee

MILT KORSLIEN

Hall of Fame Inductee

JUDY MOCK

Hall of Fame Inductee

TOM HENDERSON – ABSENTEE

Hall of Fame Inductee

RON HUETTL

Hall of Fame Inductee

ADDIE NELSON
 

Hall of Fame Inductee

RODNEY CONWAY – ABSENTEE
 

General Member

CHRIS REUER
 

General Member

BECKY MEDLER
 

General Member

BONNIE JOERN – RECUSED
 

General Member

CELESTE SIMMONS

Past Nodak Speedway President

TBD

Past Nodak Speedway President

TBD

Fan Vote

Fans