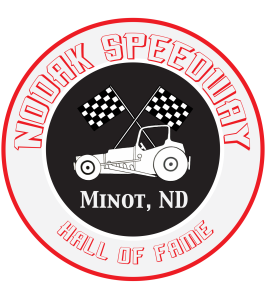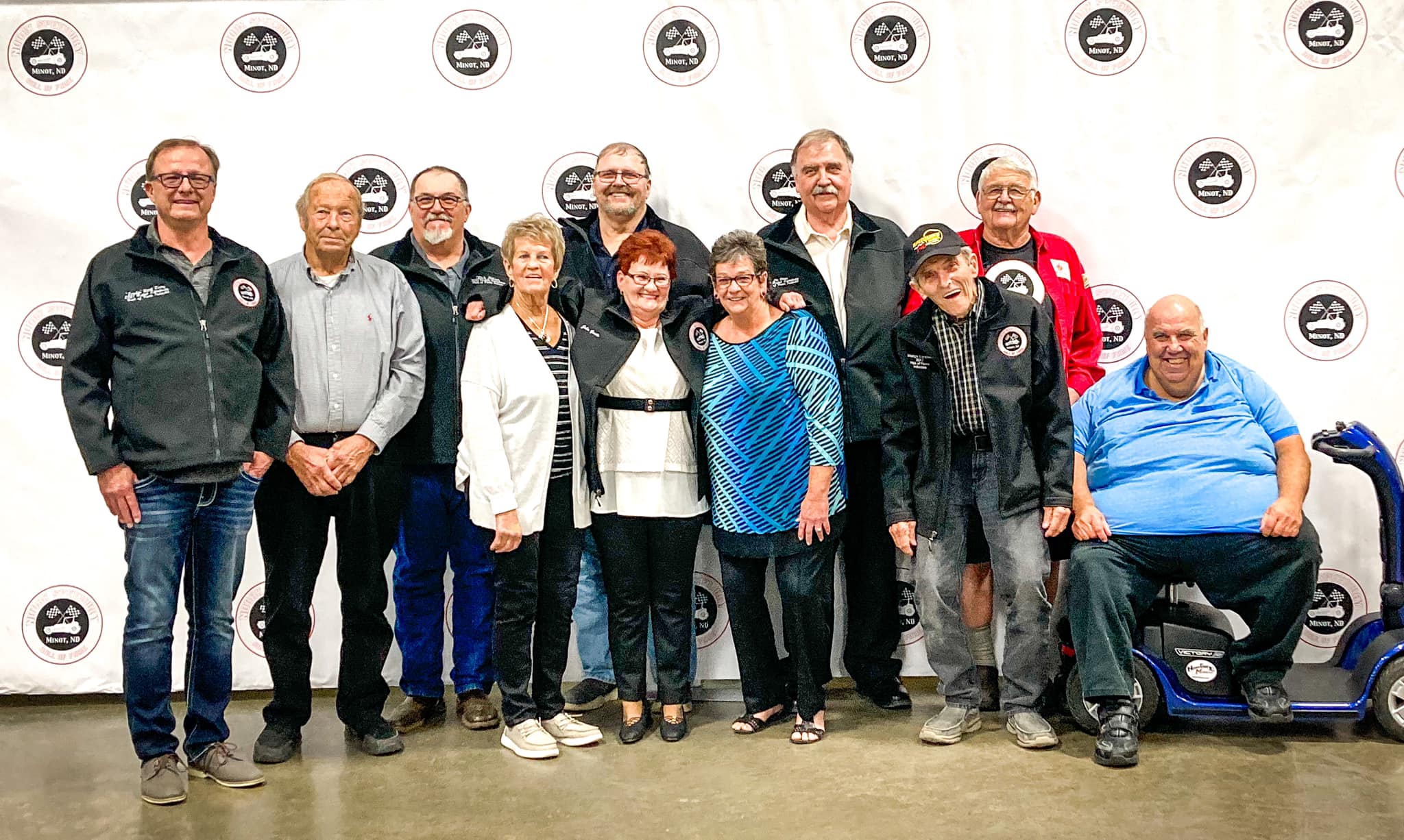 MISSION STATEMENT
The Nodak Speedway Hall of Fame celebrates excellence and strives to preserve the history of the Nodak Speedway and those who have been influential in areas including; competition, advancements, entertainment or dedicated volunteering.The ultimate goal of the Hall of Fame is to keep the history alive for generations to come. 
FAN VOTE
2024 FAN VOTE WILL START june 2024
Submit a potential nominee to the committee
Jesse Kluck
driver & volunteer
&
Bonnie Kluck
volunteer
DEDICATED NOMINEE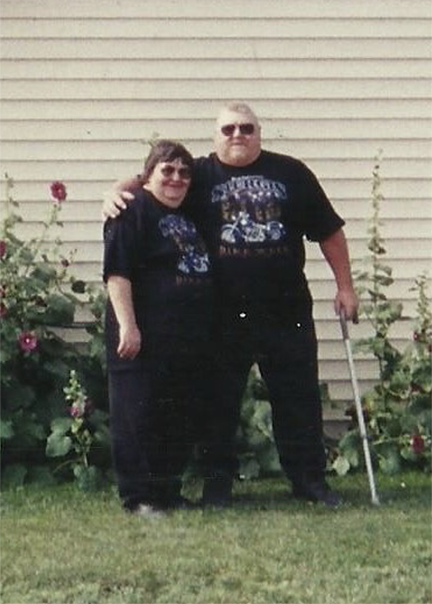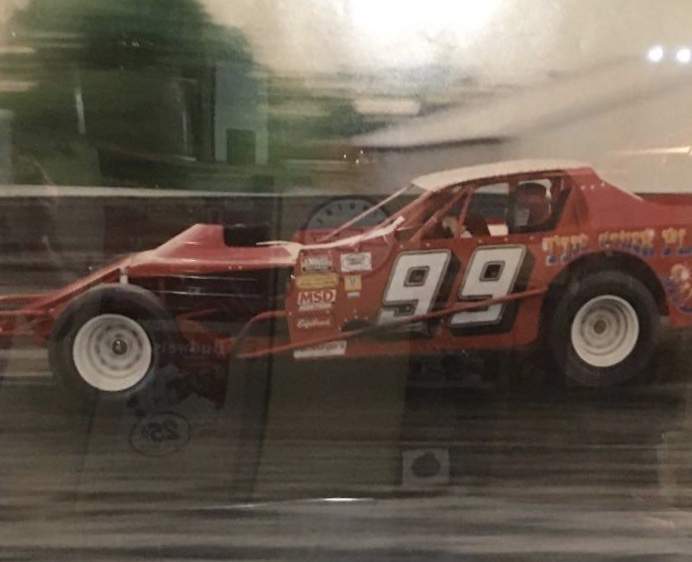 Jesse raced in Iowa before moving to North Dakota where he raced at the Nodak Speedway in the Street class in the late 70's. Bonnie helped at the pit window in 1978 through 1980. After a year or two she managed the pit window all by herself unless Nodak hosted a special. Bonnie did that for about 26 years while Jesse continued to race and pit for others. Jess also acted as a Pit Steward and ran the main gate. Their son Dorian Anderson they believed to be the youngest to wear the officiants striped shirt at that time. Gaining respect was a challenge. Not all racers were happy to pack muddy tracks when a 12-year-old sent them there. The Kluck family were actively involved until it got too hard for Jesse to get around in his four-wheel cart, retiring in the late 90's. Bonnie retired a few years later in 2002 and passed down the fun to younger gals.
TOM CARSON
VOLUNTEER
DEDICATED NOMINEE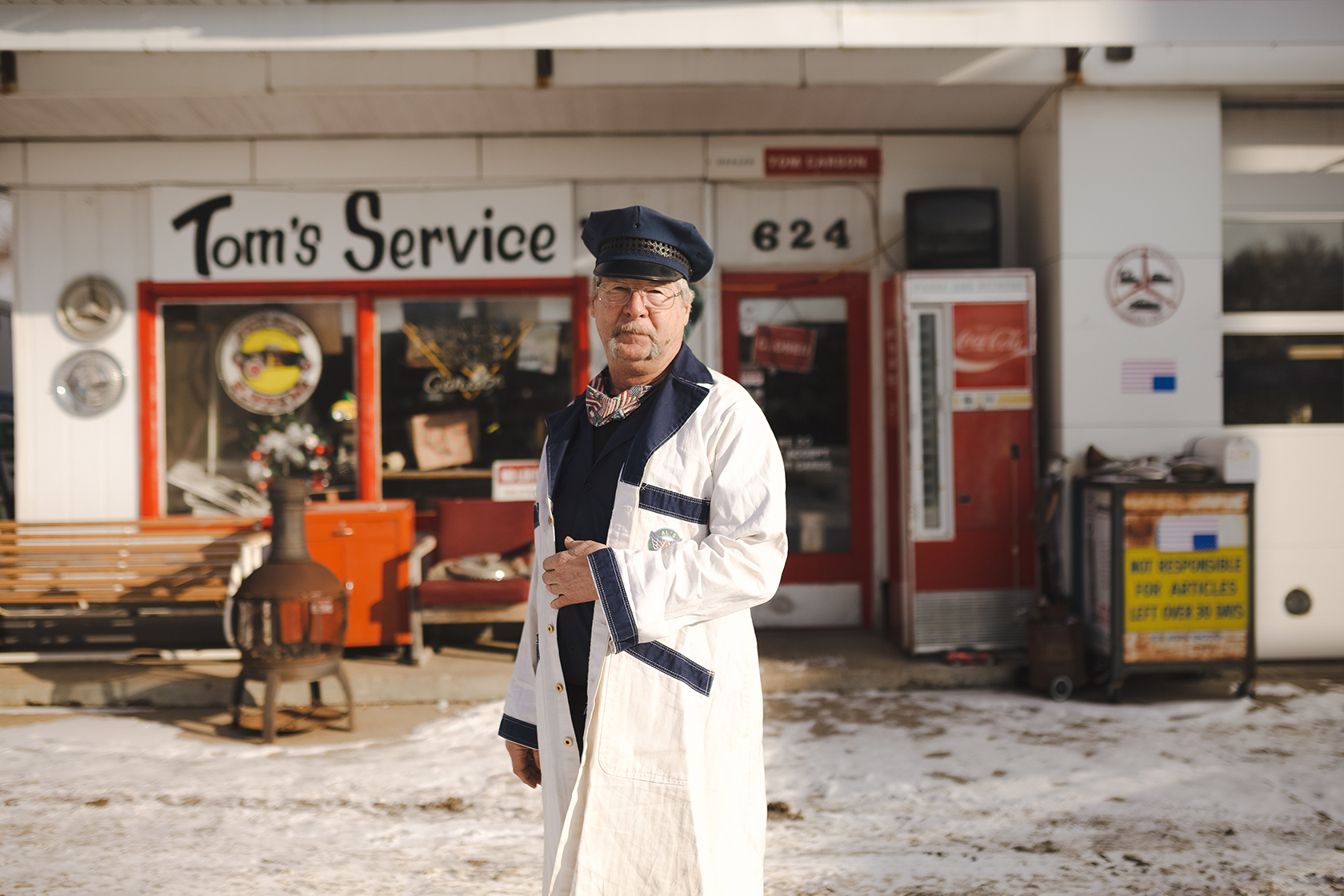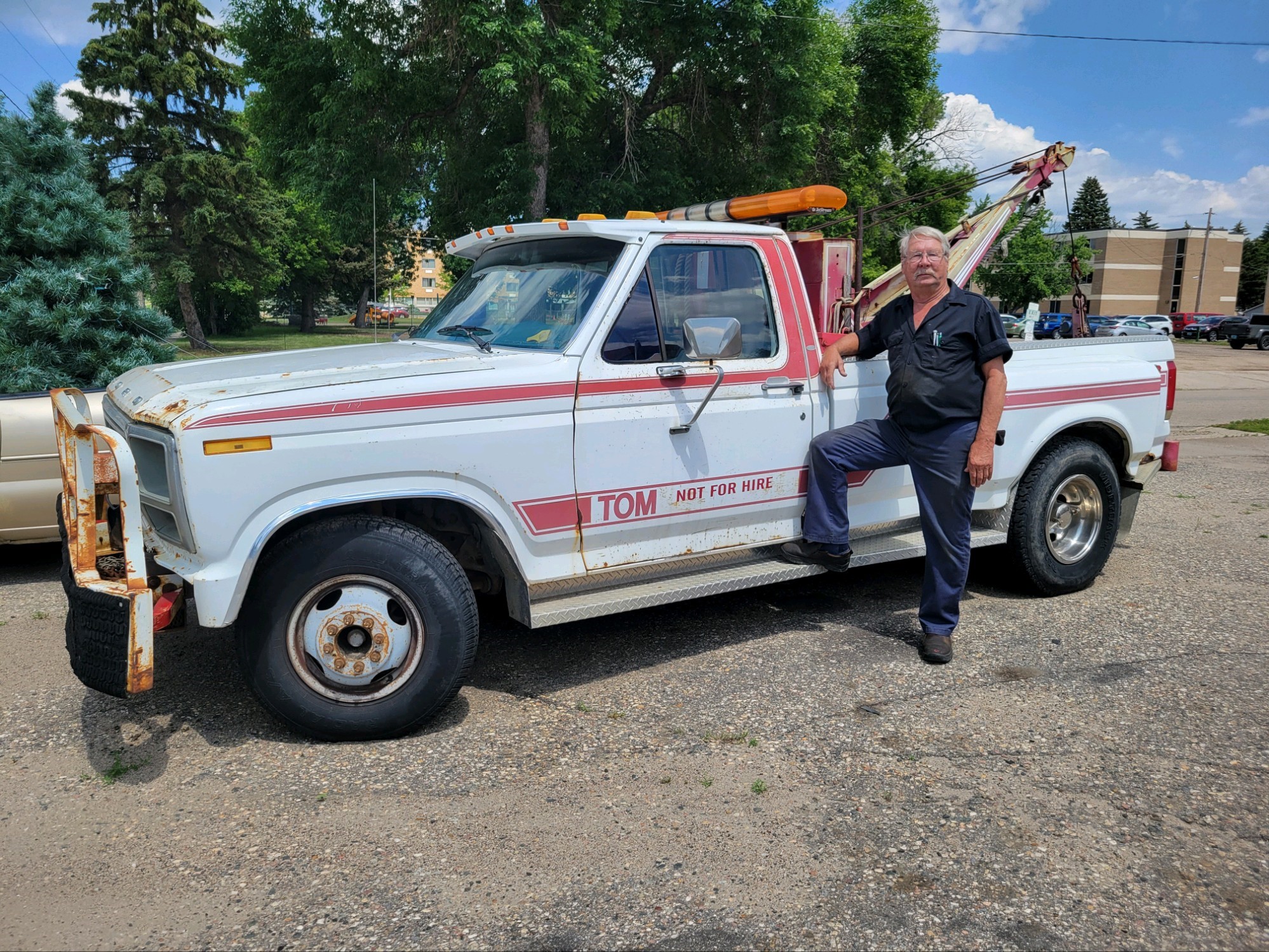 Tom Carson was born and raised in the Carpio area, moving to the Minot area after Graduation. Tom was an outstanding mechanic and got to where he could fix anything. He was eventually hired at Campus Texaco as their mechanic. At this time in the late sixties Tom got into motorcycles and could be seen riding around town on his custom-made Chopper. In his free time, he began fixing and restoring classic cars, becoming one of the best in the area for vehicle restoration. It was Tom's love for motorcycles and cars that drew him to the Nodak Speedway. Carson bought his own Service station on 3rd Street, giving him access to his station's wrecker, he began bringing it to the Nodak Speedway. This was the start of his 20+ years of being a volunteer wrecker driver for the race club.
Tom barely missed a night in his red Exxon wrecker. Outside of being the only wrecker at the track, Tom was always browsing the pits and helping out anyone that needed it.
Carson also tried his hand at driving. He teamed up with his good friend Dave Forthun and built a mini stock in the mid-eighties. Tom took the wheel a few times, but then handed the wheel to Dave full-time. He was more in his comfort zone as the wrench turner.
Over his years of volunteering Tom also found himself serving on the Board of Directors. He also built two Last Chance cars that Nodak used to raise money for the club. The Last Chance cars were a fundraiser to offer a chance to the fans to try out driving, in hopes to increase the car counts.
MIKE COUGHLIN
VOLUNTEER
DEDICATED NOMINEE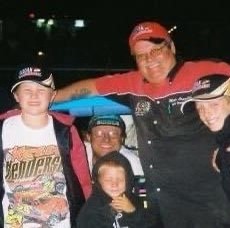 Mike Coughlin started hanging around the Nodak Speedway in the early 70's. He first tried driving in 1974 for several years, but realized that was not his strong suit. After a handful of years, Mike decided to shift roles and become a Car owner and put Steve Hammer in his car. With Steve driving they were off to the races. Steve had great success in the stock car, and modified classes. In 1983, Coughlin also owned a car in the late model class. John Hulse was his driver at the time.
Mike eventually got hooked up with John Gaule #114, as his mechanic. Mike and John had some really great and fun years. They traveled all over the states, and met a lot of good people. When John moved out of the race cars into the administrative post of Nodak, Mike went with him. John convinced Coughlin to become the tech inspector. Starting in 1995, Mike was the Tech Inspector for 14 consecutive years. Teching a total of 15 years during his Volunteering career before retiring in 2009. Mike has teched for numerous tracks throughout the state of North Dakota including; Minot, Jamestown, Bismarck, Mandan, Williston, Rugby, and Underwood, using both Wissota and IMCA Rules. Coughlin was one of the few techs that had an open invitation to tech at the Super Nationals in Boone, Iowa.  Which he did several times. Mike spent 40 years in total with the race club holding every position except President. He repaired the water trucks, tractors, and club races cars, as well as pickups. Spent many hours installing pumps underground between corners one and two. Known as Lake Nodak always flooded.
Coughlin reminisces, "I have made many friends, and some enemies, but I tried to be fair to everyone.  I seemed to have a great rapport with people that I got along with, and some of the ones I didn't. I am proud to have been associated with the club, and hope for its continued success."
DAVE FORTHUN
VOLUNTEER
DEDICATED NOMINEE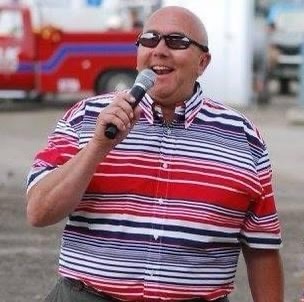 Dave Forthun is a long time Minot area resident, born in Williston ND; he grew up and attended school in Sawyer. Moving to Minot in his 20's, he met his wife, Keela. Celebrating 50 years of marriage in 2022. They had two children, a daughter Kasha and a son Dusty. They have eight grandchildren. 
Dave has been attending Nodak races for over 50 years. He started in 1971 working as part of a pit crew for Dave Varty. In the 80's he built a mini stock with Tom Carson and raced for a year. 
Forthun spent 4 years on the Nodak Speedway Board in 19987, 1988, and 1995, including serving as the Board President in 1994. 
Dave wore many hats for Nodak over the years including; announcer, grand stand clean-up, flag man, head pit steward, and drove the pace car for many years. Along with the opportunity to flag in Minot, Dave also flagged at the Williston, Fargo, and Bismarck tracks. 
Forthun held the unofficial world record for being called a SOB by more Nodak members than anyone else; but at the end of the day, he's everyone's friend! 
Dave has owned Minot Restaurant Supply for over 30 years. He is very active in the Minot community as an elder at Our Redeemer's Church, several terms on the Board at Minot Domestic Violence Center, member of the Minot State Beaver Boosters Board, and a team host for dozens of team players attending state basketball and volleyball.
VAL HORNER
VOLUNTEER
aPRIL 25, 1951 – fEBRUARY 22, 2020
DEDICATED NOMINEE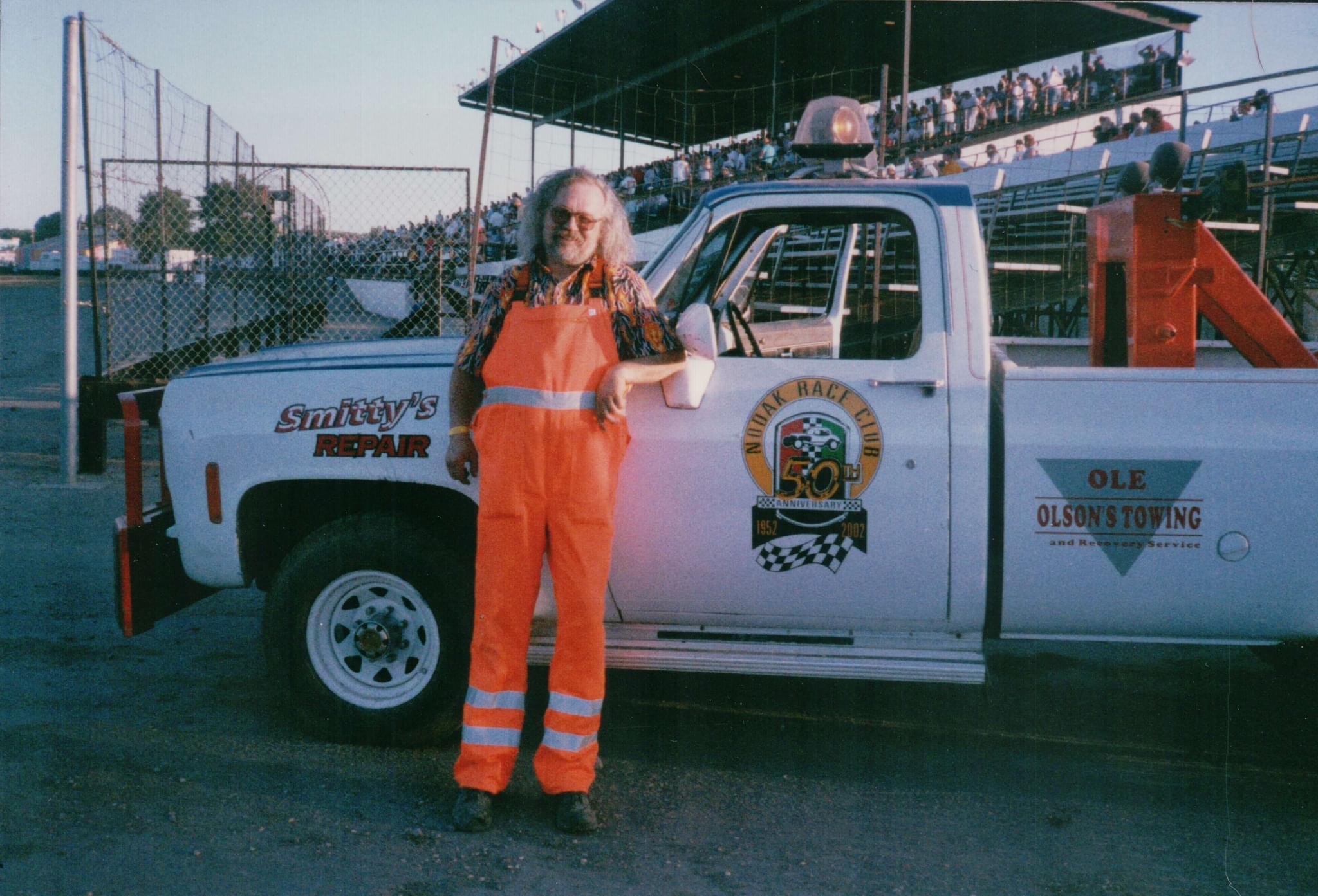 Val Horner was born and raised in Minot, ND graduating from Lake Region Technical College in Devils Lake, receiving his certification as an auto mechanic in the late 70's. He returned to Minot and started pitting for drivers Ralph Issac and Tom Evenrud in the Super Stocks.
In 1981 Val and his friend Terry Hovde started sitting in the stands as fans. Terry said they did what most fans do, judge the flagging and wrecking crews throughout the race nights. Val also convinced Terry to sponsor Wayne Johnson's race program in 80's.
After 9 years of sitting in the stands complaining amongst each other about the bad calls the flagman made that night or how slow the wrecking crew took to get to a wreck, in 1990 Val started his volunteering career with the Nodak Speedway as an assistant flagman. The following year he started working the wrecking crew, and stayed in that position serving 30 years until retiring in 2019. Val is described to be a wallflower, he didn't want to have his picture taken, although you can find him in all the photos of the wrecks throughout the years. He was highly valued on the wrecking crew as the member riding on the back of the truck most often, not wanting to drive. With his knowledge about mechanics and cars, Val knew where to hook up the wrecker to the racecar correctly. Also knowing when the cars needed to be pulled or could be pushed. Terry described Val as the brains behind getting the racecars untangled when it came to the larger wrecks. The only wreck that stumped Val, was the Alan Fetzer wreck in 2004, when he rolled and landed in the flag stand. Nodak had to bring in Ole Olson and his wrecking equipment to get Fetzer's car out of the flag stand area. Val was always the most reliable crew member as well, he never missed a race night, even if it was at the expense of missing a family event of his own. If he wasn't helping hook up the wrecker to a car, you could find him on the track with his screw driver, picking rocks. Val was always willing to help, but didn't want the recognition. His 30 years dedication to Nodak Speedway and his actions speak volumes.
STEVE LANG
VOLUNTEER
aPRIL 30, 1954 – aUGUST 24, 2001
DEDICATED NOMINEE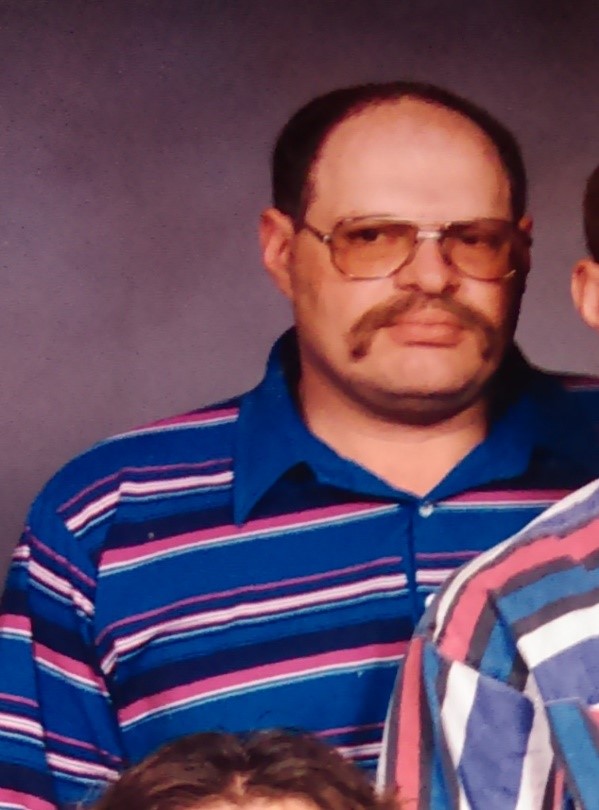 Steve Lang was an active member of the Nodak Speedway for many years. Steve became a member of the club in the 70's until his passing August of 2001. Lang helped many people as a pitman from Tom Whitfield, Brian Schlecht, Tom Henderson, John Lochthowe, Steve hammer, and Mike Coughlin. Steve also volunteered his time and drove the water truck for many years. He loved racing, he was very passionate for the sport. Lang also helped build the very first Dakota Modified with Mike Coughlin and John Gaule. Lang loved working at the track every night with Tom Henderson preparing it for Sunday's racing.
LINDSAY LAWSON
VOLUNTEER-ANNOUNCER-BOARD MEMBER
DEDICATED NOMINEE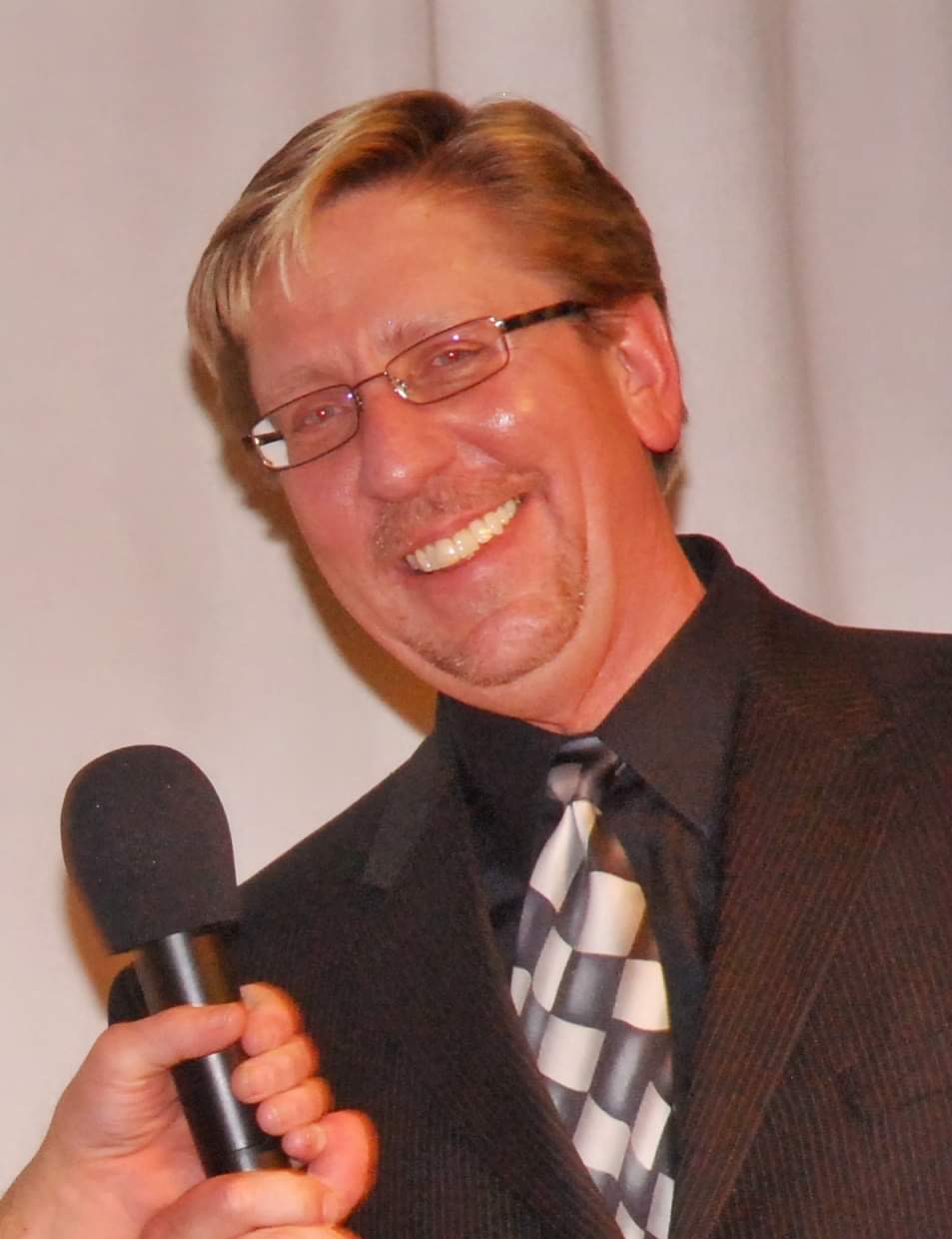 Lindsay Lawson attended his first race at the Nodak Speedway during the summer of 1960, when he was only 2 months old. Lindsay was in the Grandstand every Sunday night cheering on his dad, Jerry Lawson, throughout his career as a Sprint Car driver until Jerry retired in 1975. In 1970, Lawson and his brother began selling Nodak Speedway programs. He was only 10 years old, and recalls his commission was 10 cents per program, plus got free admission to the races.
Lawson continued to watch the races from the Grandstand until his brother, Kevin Lawson, began his racing career in 1980. Lindsay then became his Crew Chief/pitman. He continued in that role until 2003, when he was asked to fill in as a Track Announcer.  Lawson started as a full-time Nodak Speedway track announcer the following year in 2004, and fulfilled that position for the next 10 years. Besides being part of the announcing team for the weekly races, Lindsay was able to represent our local racers when the Nodak Speedway hosted the World of Outlaw Sprint Cars. Lawson called the action at the NDSF Demolition Derby and Enduro races and for several years, was one half of the announcing team for the Dakota Classic Modified Tour, travelling to racetracks in Mandan, Jamestown, Estevan, Williston, Jamestown, and Dickinson.
In 2009, Lindsay was elected as Vice-President to the Nodak Race Club Board of Directors and continued to hold that position until 2013. During his time on the Board of Directors, they were faced with several obstacles including: the flood of 2011 and the tearing down of the old Grandstand and the construction of the current Grandstand. As a member of that Board, they also designed/built/installed a new front wall and catch fence and constructed the catwalk in the south pit area.
Over the years as a member of the Nodak Race Club he has fulfilled many volunteer positions including: Pace Car driver; Assistant Flagman; Corner Official; from selling T-shirts to selling Advertising and had the opportunity to Emcee the Champions Banquet during his tenure as Vice-President.
After his time on the Nodak Board and as a Track Announcer it was time to be part of a pit crew again. Lindsay rejoined his brother, Kevin, and nephew, Dusty, as they pursued their racing careers behind the wheel of their Sprint Cars. In 2015, he also joined Isaac Sondrol and the 12s Racing Team while he was competing in the IMCA SportMod division and currently in an IMCA Modified.
The Nodak Speedway is much like a second home to Lindsay. Many of the people that he has met and formed relationships with at the Nodak Speedway have become family.
Summary
4-years as Nodak Race Club Vice-President
10-years Nodak Speedway Track Announcer
30-plus years as a Pit Crew member
40-year member of the Nodak Race Club
Life-long fan and supporter of the Nodak Race Club
BARB KITTLER-SCHULZ
CAR OWNER-DONATOR
DEDICATED NOMINEE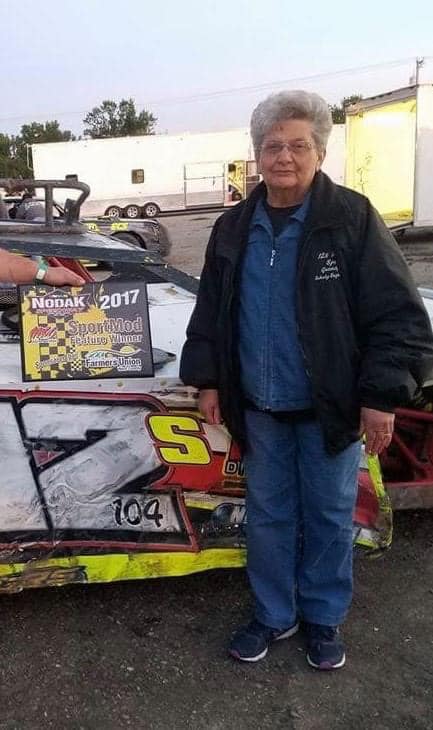 Barbara "Barb" Kittler-Schulz has been an avid race fan since the early 1960s when her husband, Harold "Harry" Kittler, started his lifelong passion for the sport that eventually led to an induction into the Hall of Fame. She has been involved in almost every aspect of racing with the exception of getting behind the wheel. She continues to be a sponsor of cars, tracks, and special racing events. Shortly after Harry's driving career came to an end in the 1970s, they started their endeavor as car owners until Harry passed in 2001. They owned everything from sprint cars to late models to modifieds. Some of their drivers included Hank Albers, Danny Schatz, Paul Schulz, Kevin Sondrol, Mike Tomlinson and Troy Kittler.
As a car owner/sponsor, Barb has been a part of over 50 feature wins, multiple championships (including a 2017 Nodak points championship), Harvest 100 title, Harvest Shootout title, Arizona Mechanical Shootout Weekend Champs, Harvestfest championships at the Geographical Center Speedway, Roughrider Modified Feature winner and qualifier, and Dakota Classic Mod Tour qualifiers.
Barb married Richard "Grumpy Dick"/"Grandpa Dick" Schulz in 2005. Dick's Hall of Fame career was already complete, but neither of them lost their love for the sport and remained involved in racing across the state. As a couple they sponsored a multitude of successful drivers and very rarely missed a racing weekend right up until Dick passed away in 2015.
Barb continues to be a staple member of the local racing community. She is a small town center piece and almost all of the racing success from the Turtle Lake area can be tied back to her influence in some way, shape, or form. She has been a driving force behind her family's continued involvement in racing.
NATHAN BURKE
DRIVER
DOB: July 15, 1974
ENTERTAINER NOMINEE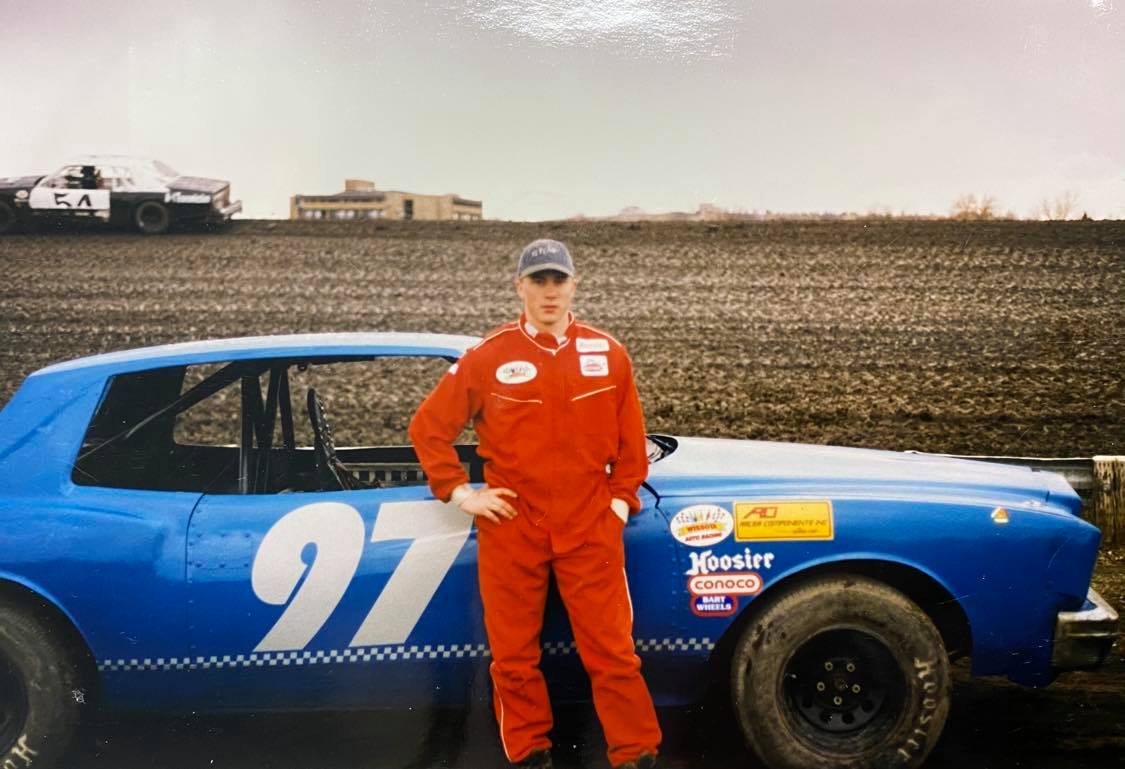 After attending the races throughout his childhood, Nathan Burke strapped into the driver seat of the number 97 Street Stock in 1993 with the help of his twin brother, Derrick and their girlfriends Lisa and Tanya. They started racing without much. Including a trailer. Burke and his crew would tow his car to the track on race nights with a tow strap to their pick-up. He exclaimed he wouldn't change that for anything though, because it brought good memories to look back on. Burke told the story of one night on the way home the tow chain broke. Lisa was riding with him as his brother pulled them behind the pick-up. Nathan said he started the car up and raced his brother home.
Over the years Burke has raced a Street stock, IMCA Stock car, SportMod, and Modified. He drove the open wheeled cars for car owners, Ron Huettl, Dusty Siedler, and Tom Kemper. Nathan is known as one of Nodak Speedway's top drivers, and most successful at that, holding the most track Championships in the race club's history at 9 Championships to date, numerous Driver of the Year awards, and Most wins within a season awards. Burke boasts about his most memorable career highlight of winning the 50-lap Stock car and the 100-lap Modified race all in the same night. His accomplishments at Nodak Speedway are what most drivers dream of.
Nathan has always been a very smooth driver behind the wheel, making moves that always seemed to get him to the front. Patience has always been key in being a successful driver. Although he said sometimes patience ran thin, but priding himself and his crew on winning with class. Nathan and his crew; Derrick, Darin, and Dusty spent numerous evenings in the shop on week nights preparing for the weekend of racing, with the number of nights spent on the car dwindling as their kids grew and started in sports of their own. Kelly, Ben and Carter always lending a hand too. Championships are won just as much off the track as on, and Nathan had a dedicated crew to get him there.
Burke has been a noteworthy driver for the Stock car class at the Nodak Speedway. He stepped away from racing after winning the 2018 Stock car Championship to spend more time watching his 3-boy's activities. He plans to make a return, although no set plans of when that will be.
Nodak Speedway Stats:
9 Stock car Track Championships in 2000, 2001, 2005, 2007, 2009, 2012, 2013, 2018
1 Stock car Runner- up in 2010,
1 SportMod Track Championship in 2013
Career Stats:
14 Stock car Track Championships
1 SportMod Track Championship
97 IMCA Stock car wins
18 IMCA SportMod wins
3 Series Titles; 2008 Dakota Classic Stock car Tour Champion, 2009 Dakota Classic Stock car Tour Champion, and 2011 Dakota Classic Stock car Tour Champion
& Numerous non-sanction Street stock wins
JOREN BOYCE
DRIVER
ENTERTAINER NOMINEE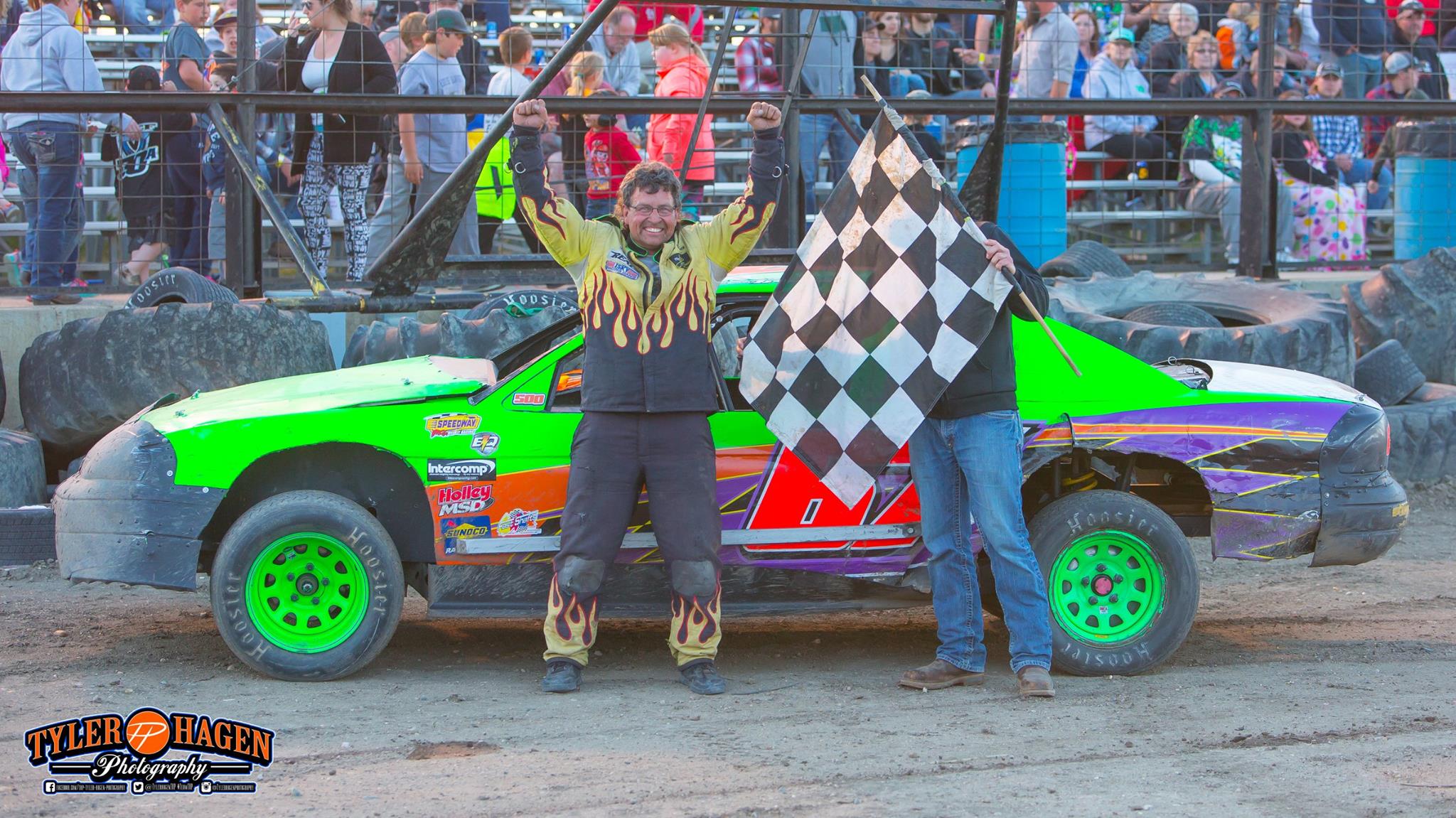 Stormin' Joren Boyce, a second generation driver to his father and Hall of Fame member, Butch Boyce didn't start out racing on 4 wheels. He ran motocross for a successful 8 years before transitioning to dirt track racing in 1984. His father's #27 was already used on the track, so he chose the #67 as his signature number. Joren hit the track with grit and grabbed the Rookie of the year in the Late Model class that season. Boyce raced for 3 years in the Late Model class and decided to take a break after the 1986 season. 
In 1990 he decided to dive back into the dirt racing world, jumping into a Dakota Modified and grabbing his second Rookie of the year. He quickly saw success upon his return, winning at least one feature every year since returning in 1990. Joren raced the Dakota Mod through a good part of the 90's all the way up until 1997. He  pulled double duty to the Dakota Mod in 1993-1997 racing a Wissota Modified as well. In those 7 seven years he grabbed 1 Nodak Speedway Championship in the Wissota Mod in 1996, 2 Nodak Speedway Track Championships in the Dakota Mod in 1996 and 1997 and 3 Runner-up Championships in 1993 and 1995 in the Dakota Mod and 1994 in the Wissota Mod. 
Closing out the 90's decade for Joren, Nodak Speedway introduced a new Sanctioning body in 1997, IMCA. He continued to see great successes in his racing program grabbing 1 IMCA Modified Nodak Speedway Championship in 1998 and 2 Runner-up Championships in 2002 and 2004. Along with those Championships winning 9 total Harvest Shootouts, Motor Mania and Motor Magic Specials in his racing career. Achieving driver of the year in 2001 and Top Modified driver of the 1st 50 years of racing for the Nodak Race Club.
After another little break from racing, Joren returned to the racing scene in 2015 running a IMCA Stock Car. Fans were overjoyed to see that green hauler lined up to enter the pits each race night. Since returning Joren has grabbed a Runner-up Championship at Nodak Speedway and numerous feature wins. 
Stormin' Joren Boyce's nickname came from shop talk in the early 90's. From the roll of the tongue Gulf War General Norman Schwarzkopf, Stormin Norman. Stormin' Joren was born and has been a legendary nickname at the Nodak Speedway.
Joren's favorite racing memory is driving the gold #50 IMCA Modified car to victory lane the first night of Nodak Speedway's 50th Anniversary celebration. His dad, Butch also qualified for the feature in the #27 retro baby blue modified, which made the event extra special. Following that memory from 2002, Boyce also holds his 2006 win at the IMCA All Star Invitational at the Super Nationals in Boone, IA at the top of his all time favorites. He was and still is the first and only prestigious Eagle Trophy for North Dakota. 
On top of his very successful racing career, Joren has also earned numerous Sportsmanship of the year awards at multiple tracks. He enjoys helping fellow racers from beginners of the sport to the seasoned veterans with new ideas. Boyce is always willing to lend an ear or a helping hand.
Joren also served on the Nodak Speedway Board for 17 years. While on the Board, he was instrumental in many big events including the transition to full IMCA sanctioning, the Roughrider Classic, and creating a network of scheduling with all western ND racetracks. 
Nodak Speedway stats:
4 Track Championships

1996 Wissota Mod

1996 Dakota Mod

1997 Dakota Mod

1998 IMCA Mod

6 Track Runner-ups

1993 Dakota Mod

1995 Dakota Mod

1994 Wissota Mod

2002 IMCA Mod

2004 IMCA Mod

2018 IMCA Stock Car

9 Harvest Shootout-Motor Mania/Motor MAgic Championships

Dakota Mod – 1991, 1993, 1994, 1995, 1996, 1997

MCA Mod – 2001

IMCA Stock Car – 2015, 2017

2 Rookie of the Year's

Late Model – 1984

Dakota Mod – 1990

Driver of the Year – 2001

Top Modified Driver of the 1st 50 years – 2002
Career stats:
13 State Championships

45 Track Championships

355+ Feature wins

116 IMCA Mod, 127 Dakota Mod, 70 Wissota Mod
33 IMCA Stock Car, and numerous unsanctioned events

3 Dakota Classic Modified Tour Champion – 1998, 1999, 2001

4 Jamestown Stampedes

8 Governor Cups in Mandan

3 Fall Round ups in Williston

Estevan Motor Speedway Wall of Fame – 2022
JOHN FLORY
DRIVER
ENTERTAINER NOMINEE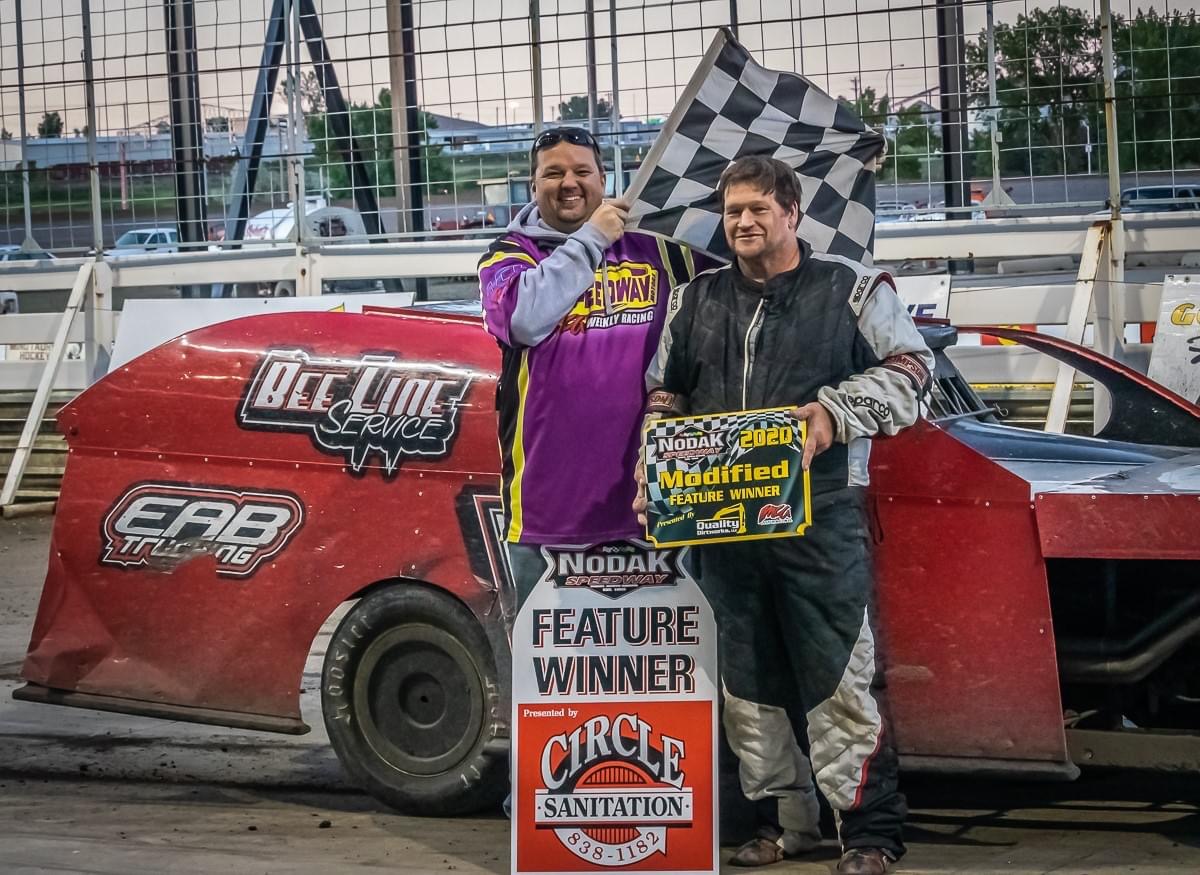 WAYNE JOHNSON
DRIVER
ENTERTAINER NOMINEE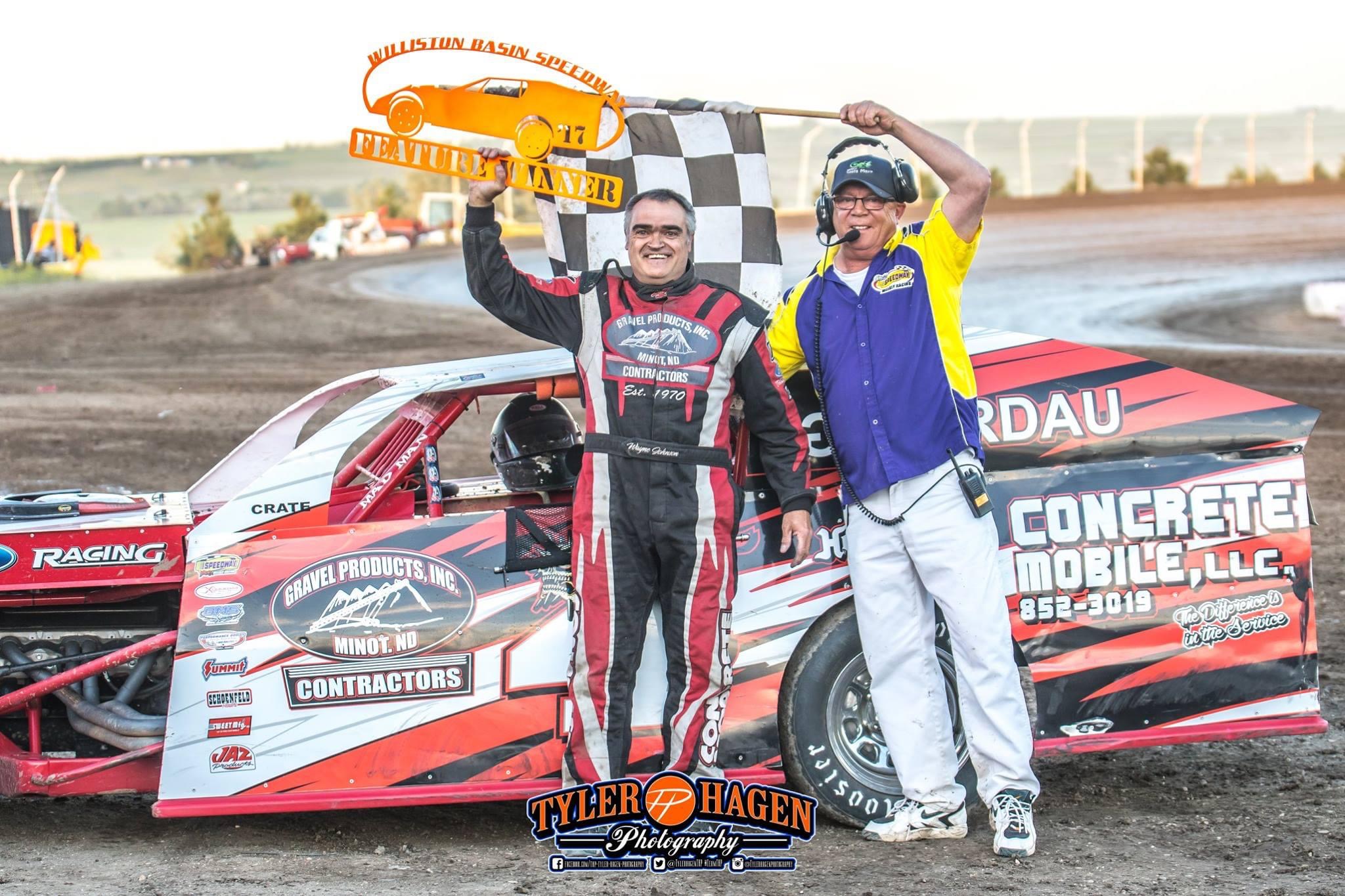 Wayne Johnson was born and raised in Minot, North Dakota. He gained an interest in mechanics and the racing way of life at a young age. Wayne's father ran the wrecker at Nodak Speedway in the early 1970's and Wayne rode with him. After his father's passing in 1977, he had a chance encounter with John Gaule at a gas station. This encounter led Wayne to not only working for Gaule, but wrenching and pitting for him from 1978 to 1991.
Johnson began his racing career in 1984 in a Super Stock. He won the first heat race he entered and was eventually named Nodak Speedway's Rookie of the Year. Wayne raced Super Stock for two years and then moved to a Dakota Modified and then to a Wissota Modified in 1990. Johnson won multiple features along the way in Minot, Rugby, Williston, Mandan, and Jamestown. With the changing on sanctioning in 1997, Wayne moved to the IMCA Modified and that is what he races to this day. Also winning his first IMCA Modified feature in 1997.
Johnson has earned nine Track Championships over the years of 2000, 2001, and 2008 at the Geographical Center Speedway in Rugby, 2001 and 2003 at Nodak Speedway, 206 at Estevan Motor Speedway in Estevan Saskatchewan, 2009 and 2013 at the Williston Basin Speedway, and 2017 at the McLean County Speedway in Underwood. Wayne also holds season Runn-up in 1994 and 1996 at the Dacotah Speedway in Mandan, 2005 and 2009 at the Geographical Center Speedway in Rugby, 2020, 2021 and 2022 at the Nodak Speedway and Williston Basin Speedway, and 2022 at the McLean County Speedway in Underwood. In addition to Track Championships, he was a Race of Champions qualifier at the Super Nationals in Boone in 2000.
Wayne served on the Board of Directors for the Nodak Speedway in 1989 and 1990. He has won many Best Engineered and Best Appearing race car awards at the Spring mall show and car shows. Johnson currently has seventy National-Regional IMCA Modified wins under his belt and is tied for 111th for all time feature wins through IMCA. His career best was in 2006 when he won six features, and additionally, a State Champion in 2007.
Wayne decided after forty years behind the wheel of the 4J machine, that it is time to hang up his driving suite and kick back and relax.
Career Stats:
9 Track Championships
11 Runner-up Championships
Race of Champions Qualifier
70 IMCA Feature wins
1 State Championship
2 year Board Member
KEVIN LAWSON
DRIVER
ENTERTAINER NOMINEE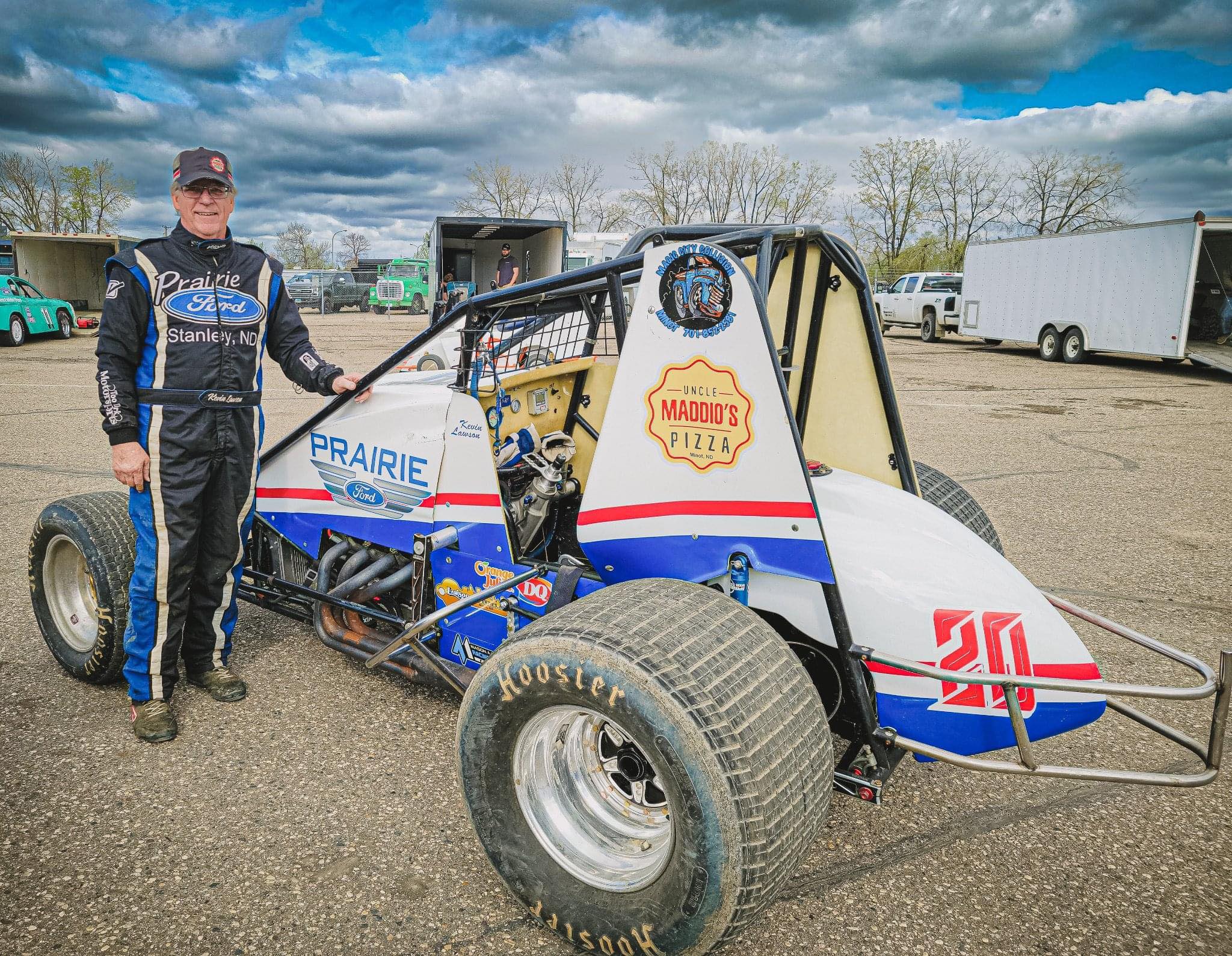 Kevin was born to be a racer as he was around the sport all his life. He began to help out his dad, Jerry, as soon as he could. He became a member of the race club over 45 years ago and has been a member ever since. Even when Jerry stepped away from driving in the early 70s, Kevin continued to be a part of the club. Lawson finally got his chance to become a driver himself in 1980 with the help of Ray Mock in the hobby stock class. After running in the Hobby class for a few years, Kevin tried his hand at a late model. He then moved into the new Dakota Modified class and found the most success in that class. He finished 2nd in season points in 1996 and 3rd in points in 1997. When the Dakota Modifieds were discontinued, he then moved into the IMCA Modified division. He ran that class until 2005 when he was given the opportunity of a lifetime to race a sprint car. In 2008, he made the World of Outlaws A Main at the Dacotah Speedway and has also made the A Main with the World of Outlaws in Minot. In 2020, he moved from wing sprints into the newly formed Western Renegade Non Wing Sprint car series and races in that class as of 2022.
In addition to driving, he has held a Board member position on the Nodak Race Club board, volunteered at the track, and helped promote the club at many events outside of the track, including the annual Dakota Square Mall show and many kid's days.
He will probably tell you that the most important hat he has worn is that of car owner to his son, Dusty. He has enjoyed every minute of bringing up the third generation of Lawson Racing in the sport that he loves and has given so much to. Being added to the Nodak Race Club HoF would be the perfect recognition of the time, effort, and respect Kevin has given during his career. He was always there to help out his fellow racer. Be it with lending a tool, a part, or friendly advice that would help them get going in the right direction. He always did what was right for auto racing and the club. It's only fitting that he would join his father Jerry as a member of the Nodak Race Club HoF.
GREG NIKITENKO
DRIVER
ENTERTAINER NOMINEE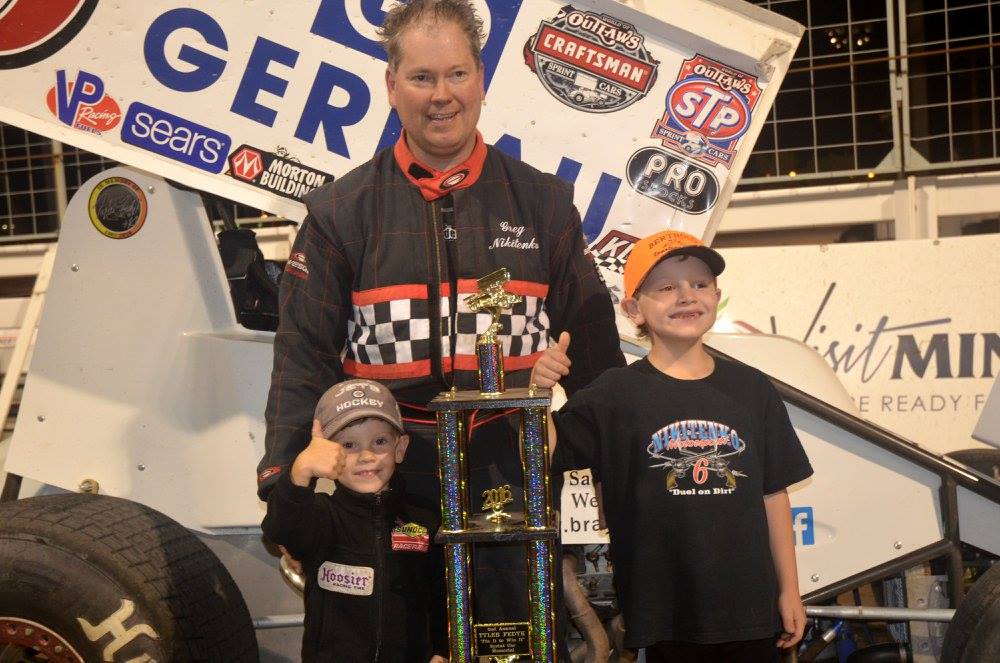 Greg decided to take the challenging journey that the racing world holds, and that his dad, Andy Nikitenko went on. He started his racing career in 1987 after high school, in the Dakota Modified class at the Nodak Speedway. After a year of learning and growing, Greg received the most improved driver in 1988. Following a year of improvements, he won the 1989 Season Championship in the Dakota Modified class. Greg attributes his quick success to a lot of focus. He explains being new to the sport from the owning and driving a car standpoint, he and his crew really wanted to race and learn as much as they could, and as quickly as they could. With this mindset, Greg and his dedicated team found great success in his journey early on. Along with that dedication he had and still has a dedicated crew that will go anywhere at any time to race and work on his Sprint Car. With the knowledge he gained and the support behind him, he decided to make the move to the Wissota Modified class in 1990 and continued his achieving career by grabbing the 1990 Season Championship his Rookie season. Nikitenko raced in the Wissota Modified class until 1995, when he was approached to drive a Sprint Car owned by Steve Murphy, Tom Henderson, Dave Freur and Mike Butts. Greg always had dreams of racing a Sprint Car, so it didn't take him long to agree to the offer. Greg and his team have raced pretty much every Sprint Car special event the upper-Midwest offers, ASCS, NOSA, WoO and CAOSS from then to present day, having several wins along the way. 
In 2005, Nodak raced the NOSA Sprints on a limited schedule through 2007. Nikitenko finished as the Season Runner-up in the 2005 and 2007 seasons. Greg has competed in the Tyler Fedyk Memorial Race over Labor Day weekend at the Nodak Speedway starting in 2015, and has won that race 4 times in 2016, 2017, 202, and 2021. Greg and his team were also crowned Motor Magic Champions in 2007.
Along with his dedicated racing career, Greg also was called to serve the Nodak Speedway as a Board of Director for 4 terms in 1989 to 1992, 1996 to 1998 and 2012 to 2011. Nikitenko was instrumental in launching the process to get the World of Outlaws to race at the Nodak Speedway from 2006 to 2018. He served on the Committee to help with organizing the event and its inception. 
Nikitenko reminisced back that he never thought he would be racing this many years from when it all first began back in 1987. Racing is a team sport and has so much that goes on behind the scenes. Nikienko had great support from his family and his extremely dedicated crew members over the years, great sponsors and unwavering fan support, without that support, he says his success wouldn't have been possible.
JIM WERRE
DRIVER
ENTERTAINER NOMINEE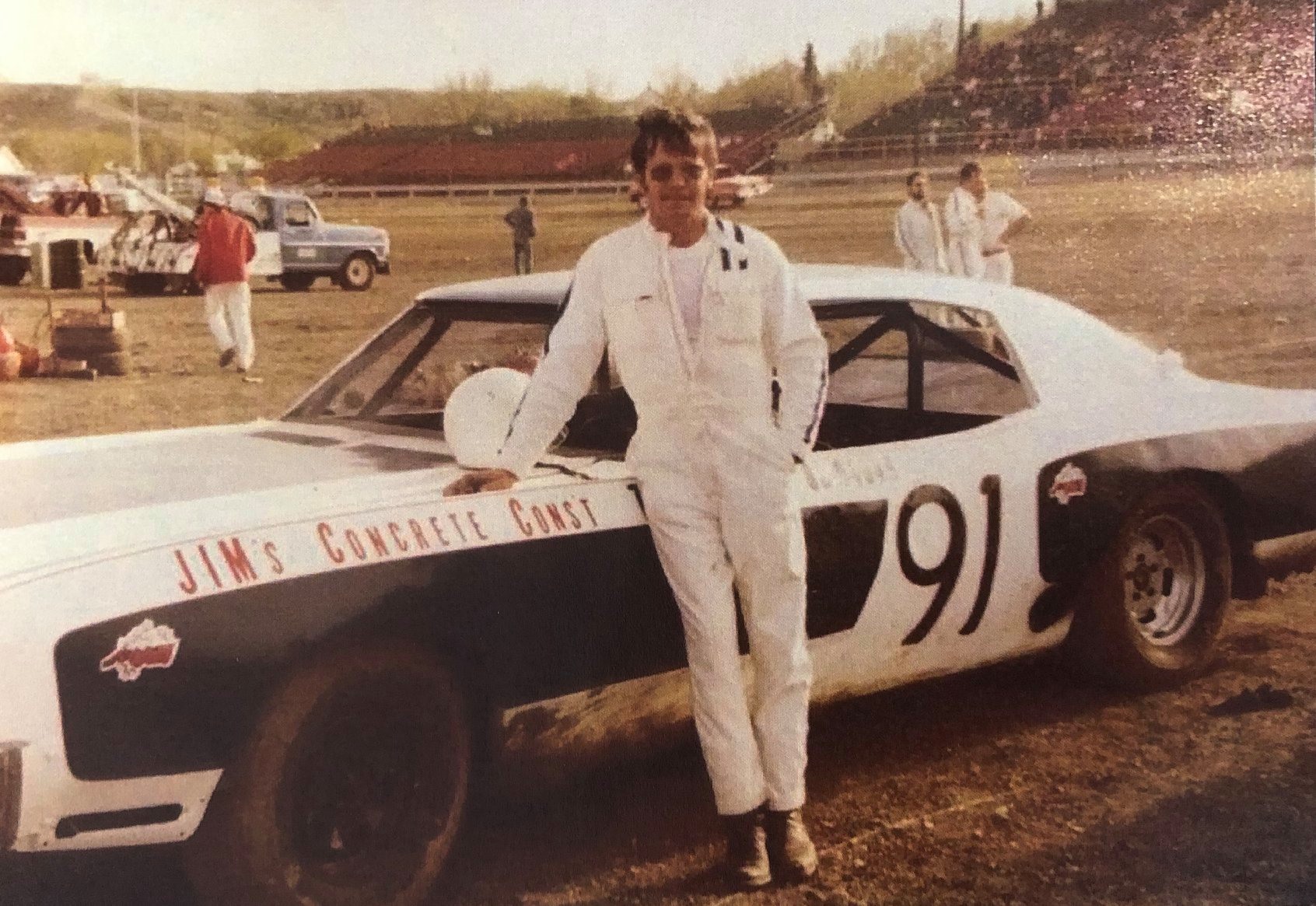 Jim was a member of the Nodak Speedway in Minot for 27 years from 1968 to 1995. He got started in the sport by pitting for his brother Larry Werre in 1968. He started racing at the Nodak Speedway in 1971 racing a Modified Stock Car #191, retiring in 1984 with his #5 car. He was also a member of the Missouri Valley Speedway in Bismarck, the Williston Speedway, and the McLean County Race Club in Underwood.
He started with Dakota Modifieds, Mini Stocks and Mini Mods. He built the very first Mini Late Model in 1991. Jim was always an innovator, loved dirt track racing and Nascar. He was his own car sponsor for over 13 years and his racing accomplishments were many. Crew Chief for his son Eddy, Mini Stock Season Champion, Dakota Modified Mid-Season Champion and Runner-up.
In 1991 Jim built and helped promote the Northern Pro IV Racing Association with Robert Rosselli, Rick Vondal, Curt Kjonaas and Eddy Werre. Jim and a few others built the 4-cylinder Mini Mods to build the racing circuit car counts. They came up with a set of rules, and Robert Rosselli promoted them. They raced throughout anywhere that would have them in North Dakota, Minnesota, and Canada. The Racing Association was such a success that Wissota bought it and took it over in 1995. Jim raced with Jim Corcoran's Racers on the Northern Racing Circuit with his #191 car. Jim enjoyed working on any race car by helping fellow competitors with new builds or repairs before race day. Jim was a great influence in his son Eddy's racing career, also which began in 1985.
Jim's family believes his racing career was more profound after he hung up the wheel. There wasn't anything beyond his capability to fix. He could fix anything. He was very influential to the people around him, his passion for racing and wrenching guided his son, and fellow racing friends to achieve greatness and in their own ways and on their own time. Jim was so good and so fast at fixing things his son Eddy broke a lower ball joint in Bismarck and he had it fixed before they even lost a lap. Or when they blew up a motor in hot laps and had it changed and back on the track for the heat race. He never gave up, and his family contributes their success to Jim!
He entered the Army in 1962 and served two years in Germany as a Sargent and was discharged in 1968. He worked for Peter Kiewit Construction in Montana and later on the Garrison Dam Project. He also worked for Minot Wrecking, Dan Geiger Construction and Mel's Concrete. In 1977 he began Jim's Construction in Minot which he owned and operated with his son Eddy until the time of his death in 1999.
Induction Process
Last Amended 1/9/2023
Mission Statement:
The Nodak Speedway Hall of Fame celebrates excellence and strives to preserve the history of the Nodak Speedway and those who have been influential in areas including; competition, advancements, entertainment or dedicated volunteering.The ultimate goal of the Hall of Fame is to keep the history alive for generations to come. 
NOMINATION PROCESS
Nominating
Nominees must meet all criteria listed below for their respective achievements. Formal Nominations can be accepted by any Nomination Committee member. Nominations should include a complete bio along with a supporting photo of the Nominee. 
Nominee Criteria
Drivers
Participated in competition for minimum of twenty-five (25) years

Must be retired for three (3) years

If driver has raced for forty-plus  (40+) years, they do not need to be retired 
Car Owners
Has had a car in competition for minimum of twenty-five (25) years
Pitmen
Has to have wrenched for a minimum of twenty-five (25) years
Board Member
Must have served the maximum terms set forth according to the current Nodak Speedway Bylaws

Has held a minimum of two (2) different Board positions

Has advocated of advancements and made a  significant mark on Nodak Speedway's history
Volunteer
Must have volunteered their time for the club for a minimum of twenty-five (25) years

Must be retired for three (3) years

Volunteer must have made a significant mark on Nodak Speedway's history

If a volunteer has committed their time for thirty-five-plus (35+) years, they do not need to be retired
Employees
Must have been employed for a minimum of twenty-five (25) years

Must be retired for three (3) years

Employee must have made a impactful mark on Nodak Speedway's history

If an employee has been employed for thirty-five-plus (35+) years, they do not need to be retired
Sponsors/Donors
Must have sponsored or donated  to the Nodak Speedway for a minimum of fifteen (15) years
Fan
Must have attend the Nodak Speedway races for a minimum of thirty (30) years 

Must be a Super-fan of the Nodak Speedway that has made a significant mark on Nodak Speedway's history
All Nominees
Must have held a Nodak Speedway membership

Must be minimum of fifty (50) years old

Individuals may also be considered who made significant achievements in the sport, but left the sport early due to a variety of circumstances
Nomination Committee Panel Duties
A 13-person Nominating Committee will meet between the months of January to March to select the list of up to, but no more than 8 nominees for the Driver category, and up to, but no more than 8 Car owners, Pitman, Board member, Volunteer, Employee, Sponsor/Donor, and Fan category.
Committee Panel Members
The Nomination Committee panel will consist of the Hall of Fame Director, President of the Nodak Speedway, an elected Board Member of the Nodak Speedway, eight (8) Hall of Fame Members, and two (2) General members of the Nodak Speedway.
————————
VOTING PROCESS
Induction Committee Panel Duties
The Induction Committee will come together in July to discuss all Nominees and bios and vote. There will be a fourteen (14) person Induction Panel with a Fan Vote. Collectively the Induction Committee will consist of a fifteen (15) person panel.
Committee Panel Members
The Induction Committee panel will consist of the Nomination Committee members; the President of the Nodak Speedway, the elected Board Member of the Nodak Speedway, ten (10) Hall of Fame Members,  two (2) Past Nodak Speedway Presidents, and one (1) collective Fan vote.
Induction Guidelines
The Nominee list will be split into two (2) separate categories. The first category will be the Entertainer Category, consisting of Drivers and the second category will be the Dedicated Category, consisting of Car owners, Pitman, Board members, Volunteers, Employees, Sponsor/Donors, and Fans category.
The Nodak Speedway HOF Director will be responsible for organizing the Induction meeting, They will direct the Committee panel to discuss each Nominee and initiate the ballot voting. The HOF Director will outsource a vote counter. The vote counter will be carefully picked to have little to no ties to the racing community. Number of votes of Nominees will not be announced or disclosed to the Committee. The appointed vote counter will provide only the Nominees that received 75% of the vote. The Committee will call for the ballots to be destroyed by the vote counter. 
If any member of the Nominating Committee or Induction Committee appears on the current year's ballot, these individuals will be recused from participating in the nominating and induction  process for as long as he or she appears on the ballot. If the individual is inducted, he or she will be automatically reinstated to participate on the committee the following year.
Nominees can appear on the ballot for up to three (3) consecutive years. If the Nominee does not receive enough votes to be inducted on the third consecutive year, they will be ineligible to be Nominated for two (2) years after.
No more than one Nominee that is directly related to a Committee member can be considered on the ballot. If any Committee members are related to a Nominee, they will be recused from the voting process for as long as their relative remains on the ballot.
If the HOF Director is unable to fill all Committee member positions, the Committees may operate at a minimum seven (7) person Committee. If the Committee is unable to meet the seven (7) person capacity, Hall of Fame Nominating and Inducting will cease for that season, and reinstate the following year.
Fan vote
Fan voting will run May through June. Running poll results are not official. Results will be reviewed and duplicate votes will be thrown out. The top three (3) Nominees from the Entertainer Category will be taken, and top three (3) Nominees from the Dedicated Category will be taken.
The Entertainer Category
Drivers
Each committee member will vote for three (3) Nominees of their choice. Nominees with 75% of the vote will be Inducted into the Nodak Speedway Hall of Fame.
Fifteen (15) person panel, with 75% of the vote, a Nominee would require 11 votes to be Inducted. 
The Dedicated Category
Car owners, Pitman, Board members, Volunteers, Employees, Sponsor/Donors, and Fans
Each committee member will vote for three (3) Nominees of their choice. Nominees with 75% of the vote will be Inducted into the Nodak Speedway Hall of Fame.
Fifteen (15) person panel, with 75% of the vote, a Nominee would require 11 votes to be Inducted. 
————————
COMMITTEE MEMBER SELECTION
Hall of Fame members
The HOF Director will contact each Hall of Fame member via mail, email, Facebook, call or text each year requesting their interest in serving on the committee. 
General members
The HOF Director will post the General member opening for the Nominating committee on Facebook in January of every year. General members interested in serving on the Nominating committee may also contact Kadi Ruby via email at kadiruby@gmail.com or message the Nodak Speedway Hall of Fame page.
Current Nodak President and current Board member
The HOF Director will attend al Nodak Speedway Board meeting to request a Board member to be selected to represent the Nodak Speedway on the Nominating and Induction Committees
Past Nodak Speedway Presidents
The HOF Director will contact Past Presidents  via mail, email, Facebook, call or text each year requesting their interest in serving on the committee. 
Position Selection
If there is more interest than committee member positions, the HOF Director will take all names and randomly draw to fill positions. The following year those committee members will be recused from participation on committees, unless the interest is not there, then they are eligible to participate. The names that did not get drawn will have first priority the following year. 
————————
If you are a Hall of Fame member or Past President and not receiving a committee interest request, please email kadiruby@gmail.com or message the Nodak Speedway Hall of Fame Facebook page.
2023 NOMINATING COMMITTE


Hall of Fame Chairperson

Kadi Ruby

Nodak Speedway President

Justin Medler

Current Nodak Speedway Board Member

Rick Huber – Absent

Hall of Fame Inductee

Betty Nordstrom

Hall of Fame Inductee

Judy Mock

Hall of Fame Inductee

Marlyn Korslien

Hall of Fame Inductee

Milt Korslien

Hall of Fame Inductee

Glenn Schumiaer

Hall of Fame Inductee

Ole Olson

Hall of Fame Inductee

Larry Schimmelpfennig

Hall of Fame Inductee

Larry McFall

General Member

Chris Reuer

General Member

Celeste Simmons
2023 INDUCTION PANEL
Official 2023 Vote Counter – TBD

Nodak Speedway President

Justin Medler

Current Nodak Speedway Board Member

Rick Huber

Hall of Fame Inductee

Betty Nordstrom

Hall of Fame Inductee

Judy Mock

Hall of Fame Inductee

Marlyn Korslien

Hall of Fame Inductee

Milt Korslien

Hall of Fame Inductee

Glenn Schumaier

Hall of Fame Inductee

Ole Olson

Hall of Fame Inductee

Ron Huettl

Hall of Fame Inductee

Larry Schimmelpfennig

Hall of Fame Inductee

Tom Henderson
Hall of Fame Inductee
Hoss Hauge

Past Nodak Speedway President

Jim Clifford

Past Nodak Speedway President

Brandon Beeter

Fan Vote

Fans
**Last updated 8/29/23**