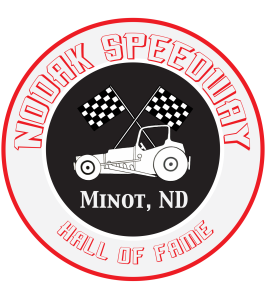 2017 marked the start of the 65th  season for the Nodak Racing Club. The club is believed to be the longest running un-interrupted race club in the nation. After World War II came to an end, the United States was trying to get back to life as we knew it before the wars. In the 1950s Auto Racing started to grow all over the Country.  The club was started by a handful of young racing enthusiasts that enjoyed tinkering on and racing their cars against each other. However doing so on city streets and state highways was frowned upon by the local law enforcement groups, so they started looking for a place where they could race. The group of guys found an open area of land and quickly made it into an impromptu race track, which today is the location of the Nash Finch warehouse on Burdick and 16th Street.  Later that year in 1951, they headed east just a little bit, where Jim Hill and Magic City Campus are currently located. The two areas were used to get together and "hot rod" around; they were not under an organized race format on a designated race track at that time.
In 1952 some of the past years racers along with a few new drivers decided they wanted more direction and organization. They made the decision to create a club, The Nodak Racing Club.  The Nodak Racing Club was chartered in a local house on Burdick Expressway, the current location of the M&H Gas parking lot. Doug Amundson, Don Berg, Jim Bergo, Bill Delong, Lehre Evenson, Dave Hammer, Claude Hanson, Al Hochsprung, Andy Nikitenko, Gary Olson and Bob Rittgers became the founding fathers and the Charter Members of the club.
With the help of one of its members, C. Morris Anderson, the race club had a place to race. He provided a spot on North Hill just west of the current North Hill Bowling Alley. The first real organized season of Auto Racing in Minot was ready in the summer of 1953 on the North Hill Track. The Markle and Thompson Construction Company helped build the track, and Lehre Evenson became the first President of the race club.
After their incorporation as a group they drew up the first rules of racing for the track, from car and engine specifications to the organized race format itself. The members used old coupes and cars from the 30's and 40's. Many of the race cars had oil barrels for seats, and some had wood for wheels and doors, and it was not a surprise to see ropes as seat belts. The club ran a Class A and a Class B division in the early years.  The A class being the large 8 cylinder motors, and the Class B being 8 cylinder flat heads or 6 cylinder motors. The first four seasons there was even a C Class for new racers.
The club members decided that to grow the club, they needed a grandstand to put fans in instead of having them watch from the hood of their cars. Thus after one year on the North Hill Track, the club decided to strike a deal with the Fairgrounds for the 1954 season. They had a wood grandstand and horse race track already in existence, and had also held Auto racing at the track previously. Horse racing went away from the fairgrounds and track was then changed to two separate tracks for racing. They had a quarter mile track for regular shows, and a half mile track for large race events, such as the popular races during the State Fair. The State Fair was not designated the North Dakota State Fair until 1965. To this day the Nodak Speedway is still located at the fairgrounds.
This period of time was known as the Golden Years of racing at the speedway, when the auto racing was at its high point in the state. A new second-generation state of the art metal grandstand was built in 1958, and was packed to the rafters every week for the races.
In 1963, after years of coupe style cars, the club adopted the Super Modifieds and the Hobby Class as their two classes of cars. The club making the jump to open wheel race cars as one of the divisions was the largest changes to date for the Nodak Speedway. The Hobby Class consisted of 1950 model cars, and the Super Modified was what looked like a sprint car without wings. These classes remained steady until 1969, when a Super Sprint category was added to the show. The name tag of Super Modifieds went away the following year, leaving the Super Sprint class as the only open wheel class in the club format.
In 1971, the club went to a new generation of car bodies changing the Hobby Stocks to a Modified Stock class. Since that 1971 season, many more classes of race cars have come and gone to what the club runs now. A Late Model division appeared in 1972, which were cars that had been produced in the 60's and 70's. In 1978 the club made another huge change by changing to just one track, a 3/8 of a mile track that at the time was advertised as the "fastest track in America."
As the club continued to grow to become one of the largest race clubs in the Midwest, a lot of different types of classes ran at the track, including Street Stocks, Super Stocks, Mini Stocks, Thunder Trucks, and the debut of the open wheel Modifieds in 1985. The club ran a Wissota Modified and Dakota Modified division, and now in 2015, the classes of Modifieds are IMCA Modifieds and Sport Modifieds. Legend cars were added to the regular program in 2005, which was the last class of cars added to date at the track. The classes going into the season of 2017 are IMCA Modifieds, Sport Mods, Stock Cars, Hobby stocks, and Sport-Compacts.
To this day many drivers will still say that the Nodak Speedway still boasts the best competition level of all tracks in the state. Because of that it is one of the hardest places to win a championship at, or even one feature race. The Board of Directors of the club today are excited for the upcoming season and the continuing tradition of the Nodak Race Club. With car counts normally over 100 cars per night, the annual World of Outlaw sprint car show, and numerous special nights like the annual Dakota Classic Modified and Stock car tour, the club races into the future.  A brand new third-generation state of the art grandstand is the new crown jewel of the fairgrounds. It has more available seating by far over the previous two grandstands, and is also a large bonus as the race club heads into the next 65 years of racing.
– Larry McFall, Nodak Hall of Fame Inductee
DONALD BENDER – DRIVER  |  July 4, 1942 – October 15, 2018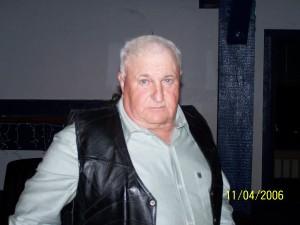 Donnie "Big Block" Bender started racing in 1966 in the Hobby Stock Division and finished his racing career racing Late Models. Don made two numbers famous the #107 and later the #77. In 1967 his second year racing Hobby Stocks he won his first Feature and his first Championship. In 1969 Don won his second Championship in the Hobby Stock Division.
In 1975 after returning back to racing running in the Late Model Division he grabbed two Championships, winning the Mid-Season and Season Titles at both Bismarck Speedway and Nodak Speedway. In 1976 Don did it again earning the Season and Mid-Season Titles at both Bismarck Speedway and Nodak Speedway. In 1977 Don was the Mid-Season Champion at both Bismarck Speedway and Nodak Speedway. The 1978 Season was his most successful of all the years he raced by winning the Mid-Season and Season Championships at Bismarck Speedway and Nodak Speedway he also won the Tri-Can Racing Association Championship.
Don also won many heat races, trophy dashes, and main events in all his years of participating in both the early Hobby Stock days to what we know today as the Late Model Division. Don was always an owner/driver working and maintaining his own equipment. Don was very successful because of awesome sponsors like: Schatz's Crossroads Truck Stop, Hank's Datsun, Rough Rider Speed Center, and Dakota Northwestern Bank to name a few. Don wasn't an intimidator like Dale Earnhardt, he was however a hard charger that was often times too clean of a driver. Don always believed in good Sportsmanship and passed that same belief onto his sons.
Don was always up front and without a shadow of a doubt one of the fan favorites wherever he raced. Whether he was pulling into the pits or fighting for a win the crowd always showed who they were cheering for. Trivia fun fact: Don's first race car an old hump back Chevrolet was purchased by the sale of 75 chickens. For years that car was called the "chicken car".
Today you will find Donnie "Big Block" Bender at any one of the Northern California race tracks helping his two sons Kevin and Bryan along with his grandson Samuel racing their Dwarf Cars. Always in the middle of things and lending advise. Don entertains the youngsters at the tracks with his old racing stories and you can almost image you were there. Don is known by all the dwarf car racers as Pops. Here's to a great racing legacy!!
RICHARD BENSON – pitman & pioneer  |  November 9, 1931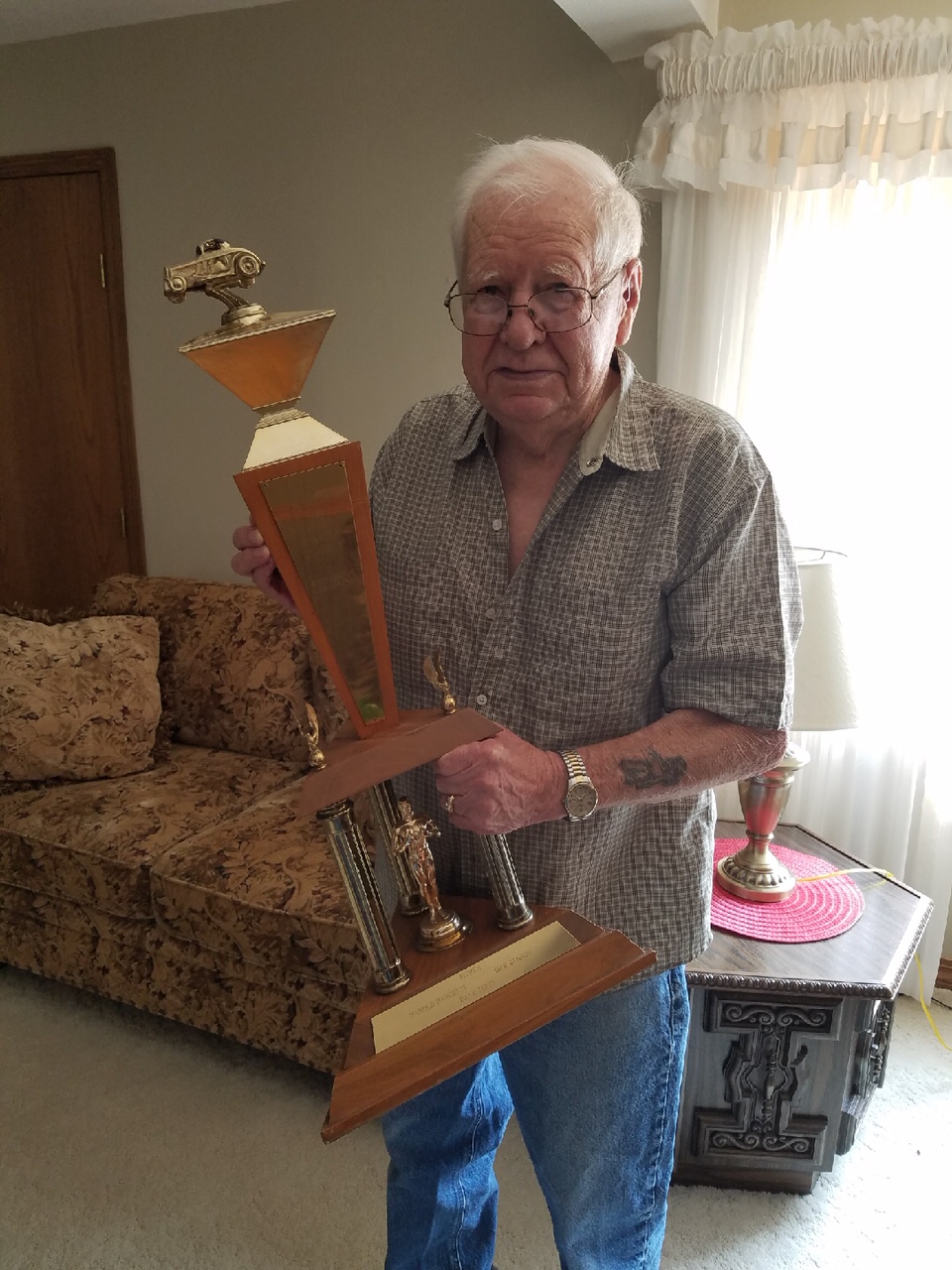 Richard got involved with Nodak Speedway in 1955, but a few life events lead him to that point in his life. In July of 1949 Richard became employed by the Bee Line Service Co. in Minot, ND as a frame and front-end alignment man. On October 3rd, 1952 Richard enlisted into the United States Navy. He volunteered for the Construction Battalion and was recommended to strike for mechanics ratings.
Richard was deployed to South Korea with the Naval Construction Battalion, better known as The Sea Bees. His service included the building of Military Compounds, Bridges, Under Water Demolition, and Under Water Welding. Richard was Honorably discharged March 18th, 1955.
Richard returned to Minot in 1955 after his service and continued his employment at Bee Line service in Minot under Roy Mattson's ownership. Richard soon became involved with the Nodak Speedway through the frame straightening and front-end alignment repair work he performed on race cars.
Reid Gordon approached Richard while working on his car and asked him to join his team as a pitman for the number 12 car that Reid Gordon drove, Richard proudly accepted. While pitman for Reid, Richard worked on several techniques to improve the steering and handling performance on Reid's car. Reid Gordon said his car handled like a kiddy car in the corners. With his knowledge Richard is now known as a pioneer in the advancement of racing in Minot.
A quote from Doug Groves, "Richard designed and perfected the front-end alignment for dirt track racing while pitting for Reid Gordon." After Reid Gordon's 1959 Championship, Richard shared his work and design with many of the drivers at the track. Andy Nikitenko shared that Richard was the go to guy for expertise in frame and front-end alignment. When double header weekends rolled around racers both local and out of town that would wreck knew Richard would work on their cars into the early morning so they could race the next day.
JIM CLIFFORD – FIRE CREW VOLUNTEER & PRESIDENT  |  August 30, 1953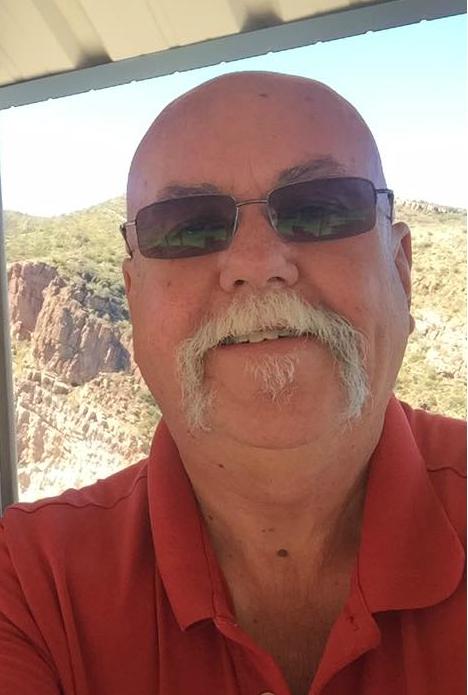 Jim Clifford grew up around racing. He first attended the races with his mother at the Fairmont Speedway in Fairmont, Minnesota and the Jackson VFW Speedway in Jackson, MN. Jim joined the Air Force in 1972 and was stationed in Minot, ND. He first came to Nodak Speedway as a firefighter during the summer of 1972. He provided Fire Emergency Services under Fire Chief Kenneth O. Gillespie, and in 1973 and 1974 Clifford took over as Nodak Speedway's Fire Chief.
As he was just beginning his fire career at the Nodak Speedway, Clifford was given orders to Taiwan. He didn't stay away too long though, as he was back in 1976 providing Nodak Speedway with Fire Emergency Services again. Jim moved back home to Minnesota in 1979 and helped provide Fire Services to the Fairmont Speedway and Jackson VFW Speedway, but then shortly moved back to Minot in 1982. Clifford then took over the Fire Crew as the Fire Chief again from 1982 to retiring in 1996. Clifford had been retired from providing Nodak Speedway with Fire Emergency Services for 13 years, and was called in 2009 to come out of retirement and organize a Fire Crew once again.
Clifford has since been Nodak Speedway's Fire Chief, with his son Jed now by his side. Jim has now provided over 25 years as a firefighter at the Nodak speedway. During the 80's and 90's Jim was a jack of all trades at the Speedway he provided track maintenance, ground flagging, and provided his pick-up for anything that needed to be done at the track. Clifford was also Nodak Speedway's President in 1985. Clifford proved to be a successful leader by being involved with paying off a $20,000 loan and purchasing a water truck and the first road grader for the club.
He was also involved on the Board of Directors when the IMCA Modifieds were introduced at the Nodak Speedway in 1997 Jim continues to be a great friend and fan of the Nodak Speedway.
TERRY FAUL SR. – DRIVER & Volunteer  |  1941-2017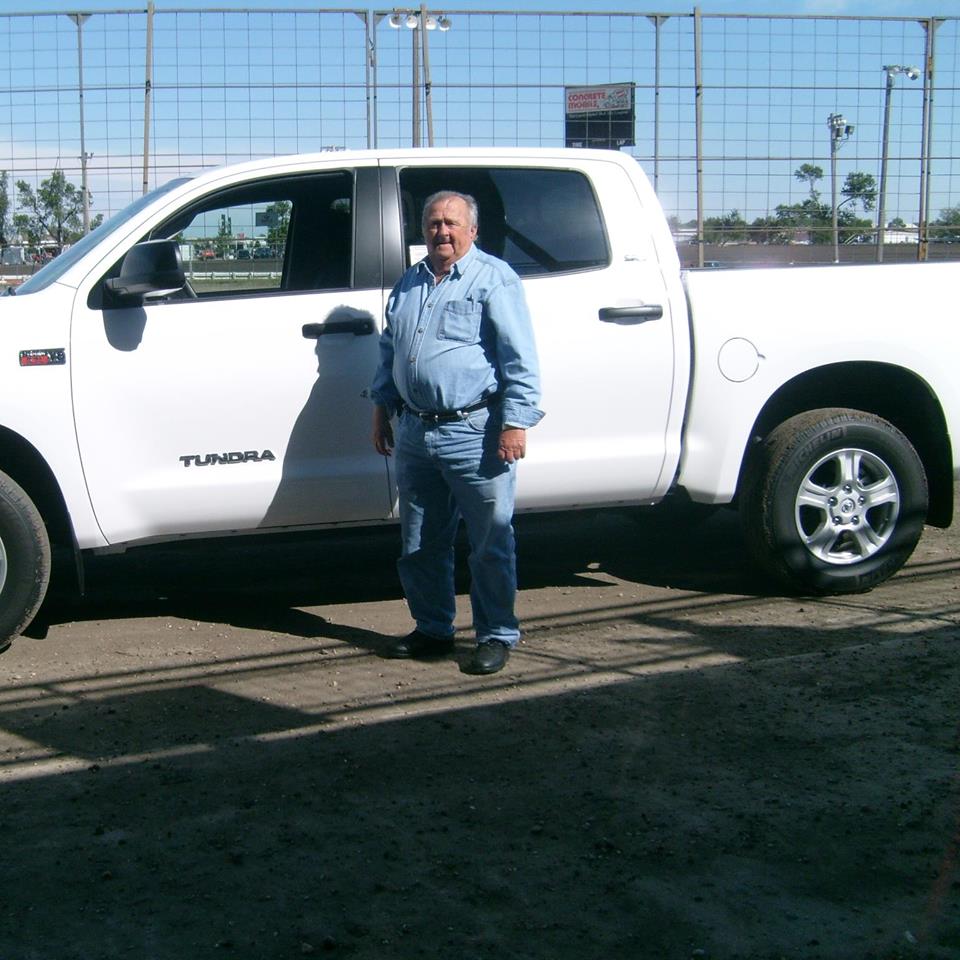 Terry Faul's association with the Nodak Race Club began in 1963 when he started attending races.
For the first 10 years, Terry was a spectator in the grandstands, but in 1973, he joined the "Flash" Mylon Ash racing team as a pitman. He was a member of Ash's team for four years until 1977. Also, in 1977, his dad John Faul won the oldest father award at the age of 82.
In 1978, Terry bought a Street stock and raced until 1980. Terry didn't collect any wins in his short stent as a driver, but he was one of the drivers that raced in the first Harvest 100. He was also the first driver to roll on the new 3/8-mile track that we now reside at on the North Dakota State Fair Grounds in 1980. This lead him to receive the hard luck award from the Nodak Race Club.
Following the 1980 race season, Terry continued to support the Nodak Race Club by attending the races and in 1987 he came out of retirement to pit for his son Terry John Faul. He did that until 1989. During the span between 1988 and 2017, Terry officially retired to the stands where he was a major supporter of the Nodak Race Club and had the distinct opportunity to watch and cheer on three generations of his family in the Nodak Race Club family. This included his son Terry John, his son-in-law Alan Medler, his grandsons Nathan Medler, Justin (Smalls) Medler and Darren Medler and his granddaughter McKenzi Faul. Terry was called upon many times in his retirement to drive the pace car and even with failing health he was always there at the races until his health problems prevented him from attending, but never missed a race still and watched it on Darn TV.
Terry loved racing. It was what his family did and was his life. Terry's love of racing is a legacy to his life and for the lives of his five children, seven grandchildren and 4 great grandchildren.
KEVIN HOCHSPRUNG – DRIVER & VOLUNTEER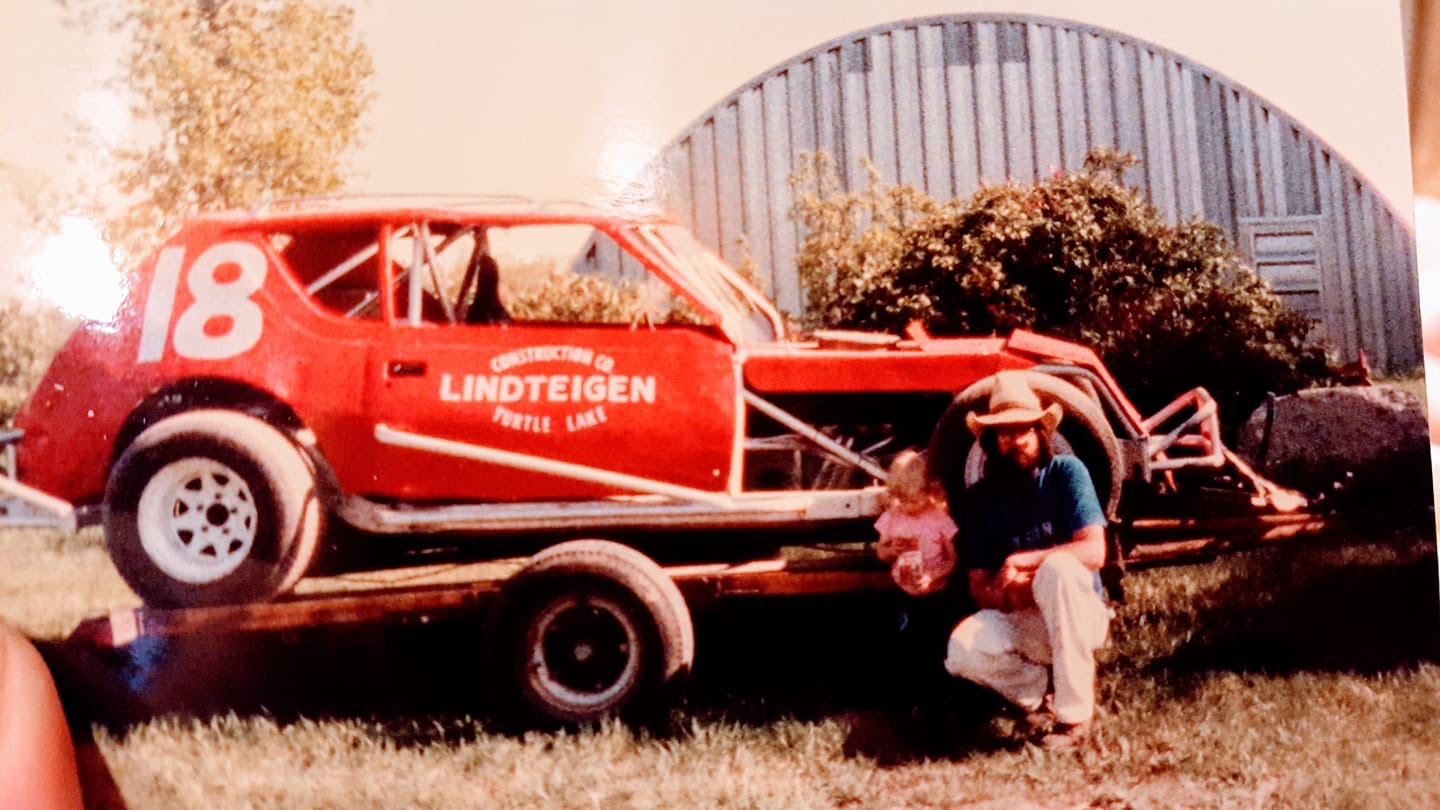 Kevin Hochsprung's love of racing started at a very young age. Kevin's mother, Darlene, used to take the kids to the races in Minot to watch their father Ted race his sprint car. Kevin would run from the car and hang on the fence peeking through trying to catch a glimpse of his favorite racers while mom bought tickets.
In 1977 after spending the winter building his first racecar, he had some problems registering as a driver due to a rule saying the driver had to be 18 years old in order to drive, Kevin being only 17 had to relinquish driving duties to a neighbor Dave Lorenz.
In 1978 after helping rebuild Nodak Speedway to its current 3/8 configuration, converting from a 1/2-mile horse track with a 1/4-mile track inside it. Kevin was able to fulfill his dream at driving a racecar. After working all winter in the shop on not only one but two race cars. That summer, Kevin and Ted Hochsprung became the first father and son race team to compete against each other in Nodak Speedway's History.
Throughout his racing career Kevin competed in Hobby Stock, Thunder Cars, Wissota Street Stock, Dakota Modified, and Super Stocks just to name a few. Kevin was also a skilled welder and fabricator. Utilizing that craft, Kevin built one of the first thunder trucks which later became a class racing at Nodak in Minot. Over the years Kevin continued to build dozens of Enduro Cages, Hobby Stock, Streets and Modifieds, under the name "Renegade Race Cars" which raced at area tracks. Kevin also helped craft the rules for the Enduro races which are the basis of the rules still in use today
In the late 80's Kevin campaigned a gremlin bodied Dakota modified with the family's familiar number 18 on the door.
Kevin's first feature win in Underwood came in 1996 but possibly his proudest moment was in 1999 when one of the 7 cars racing from Lindteigen Construction of Turtle Lake won the Hobby Stock Championship in Underwood; that driver just so happened to be his wife Michelle.
Kevin's ties to McLean County Raceway in Underwood started in the early 90's with the help of many family and friends reopened the racetrack. Kevin went on to play a pivotal role in keeping the track going by serving as Secretary, Board Member and President of the McLean County Racers Association until his passing on August 2, 2000. Kevin's passing came just a matter of days before Underwood's final race of the year. With the help of Tom Henderson and the entire racing community, the race was renamed the Kevin Hochsprung Memorial Race. Over 100 cars showed up and the stands were packed with fans to pay respect for a great friend, racer, and President whose time with us was cut short.
Kevin's contributions to the Nodak race club and surrounding race tracks were out of love for the sport. "Remember, we are here to have fun, let's go racing!" was Kevin's motivational words at the end of every pit meeting.
MILT KORSLIEN – FAN  |  October 10, 1948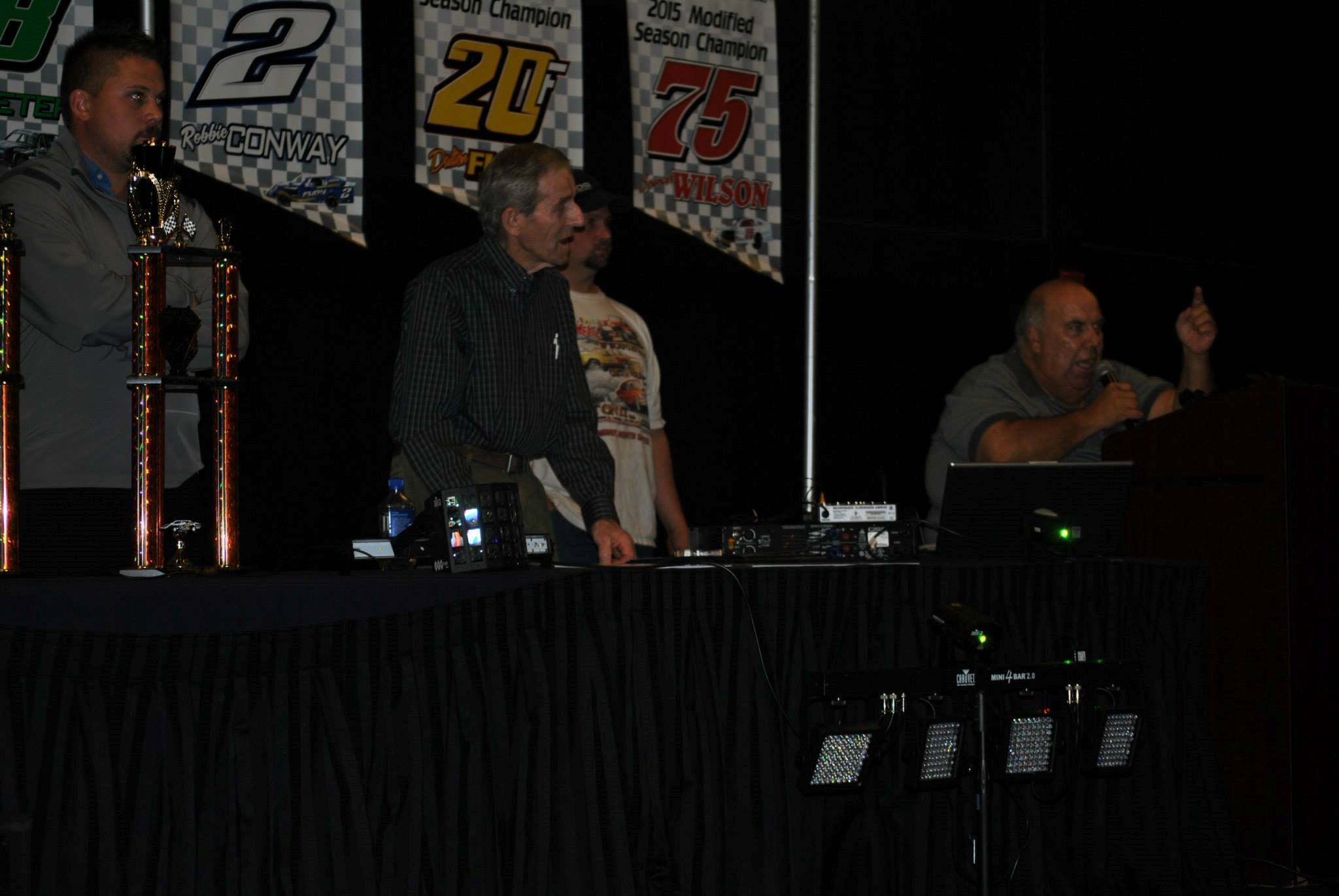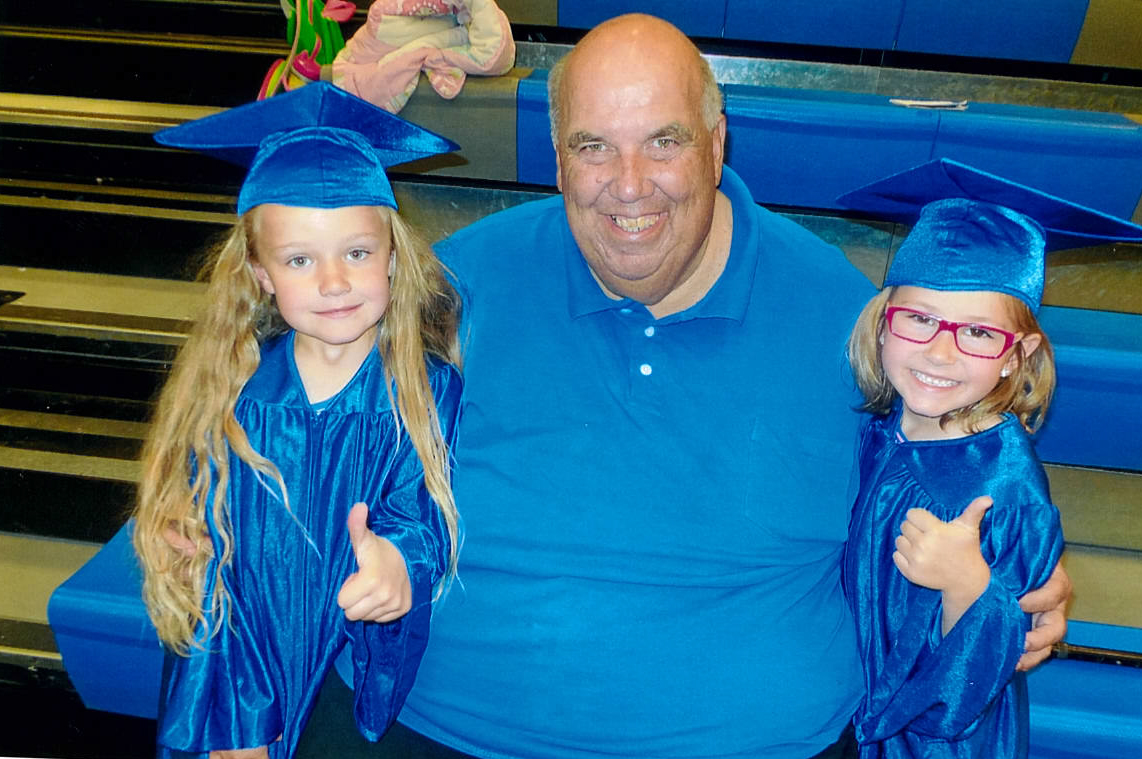 Milt has been going to the Nodak races since 1963. He started off as a pitman for his brother Marlyn Korslien. Marlyn raced for 16 years, and hung up his helmet in 1978. Milt has been a fan in the grandstands ever since, with the only races that were missed were when he was in the service. Milt was a Sargant in the Army National Guard from 1967 to 1973. His unit moved back to Minot in 1968, making it so that Milt only missed one full season at Nodak Speedway.
Milt is one of Nodak Speedway's most loyal fans, and can be found smiling away in the same spot every Sunday with his entire family. Along with being a die-hard race fan Milt has volunteered his time for the Nodak Speedway. He was the auctioneer for the annual Calcutta races that were held up until 2008. The Calcutta races helped raise money for local families in need. Milt also auctioneers the live auction at the Annual Nodak Speedway Awards banquet.
He has dedicated his entire life to volunteering and announcing for various organizations including; the Minot State Gala Auction, Minot State Basketball, ND Highschool Association announcing basketball tournaments, announcing for Minot High School, North Dakota State fair running livestock shows, Norsk Hostfest cooking and managing the stage, organizes an annual auction through the Minot Board of Realtors for the Salvation Army, organizes an auction for the Minot FFA Alumni, and has volunteered his time in some any other places.
When asked what about volunteering made you dedicate your whole life to it, he replied, "I just wanted to help other people and by volunteering was a way that I could do that. Lost of people give money to donate, but I decided to use my talent and donate hours to make our community a better place." The 2019 season will be the 56th season that Milt has attended!
GLORIA SCHUMAIER – VOLUNTEER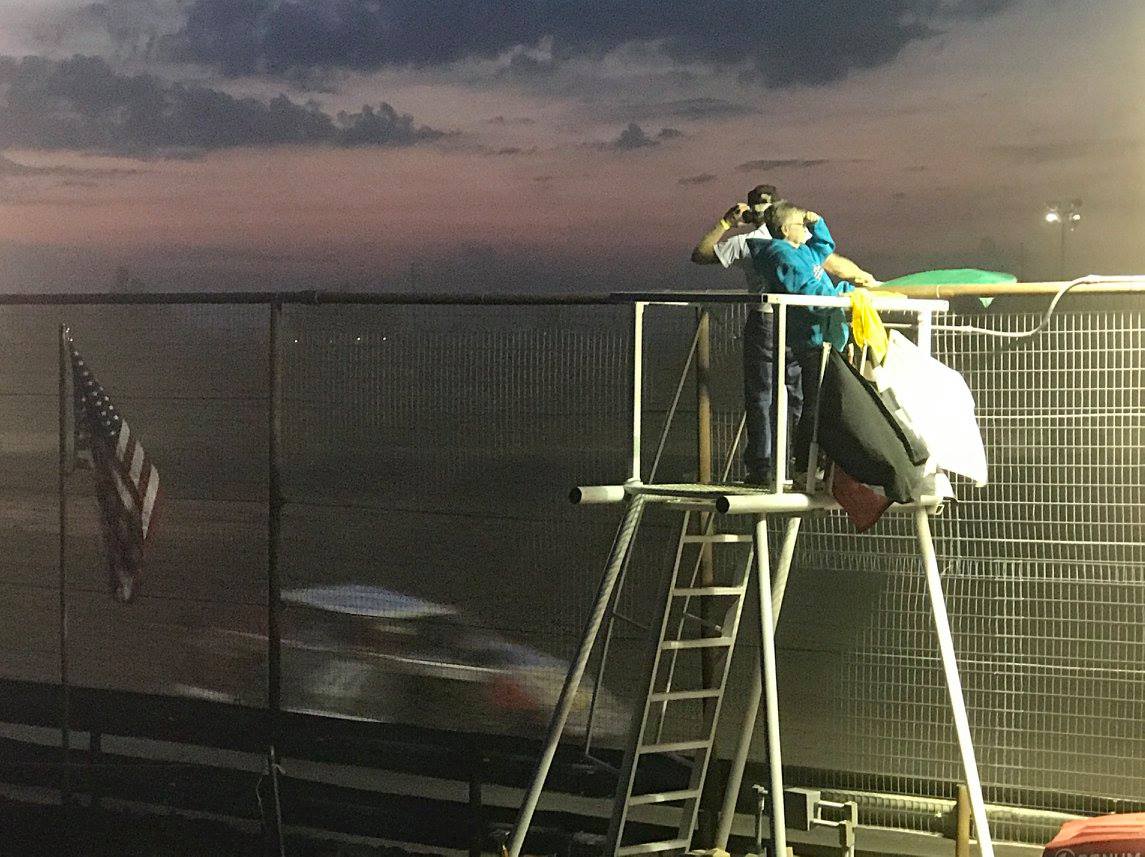 Gloria and her family started going to the Nodak Speedway races in 1954 at the North Dakota State fairgrounds in the old wooden grandstand. In 1975, Gloria was a pit-woman for her brother in-law, Henry Tarter Sr., she also pitted for her brother Rick Schmidt. In 1990 she met and fell in love with Glenn Schumaier a current Nodak Speedway Hall of Fame Inductee. Glenn was ran over by a race car in 1996, and that is when they started working together at the race track. Gloria began helping with the track preparations, picking rock, and packing the track. She also started helping with the Enduros, starting with the Brooking family and led to assisting current Hall of Fame Inductee, Tom Henderson. She also worked in the line-up crew down in the pits. Before technology took over, all the line-ups throughout the night had to be manually done. Gloria and Glenn flagged together at 5 different tracks throughout their stent of volunteering as well. Gloria has been a fan and supporter of the races for many years, racing has been very influential in her life, and she has been an asset to the Nodak Speedway race club.  
DUANE THELEN – DRIVER & OWNER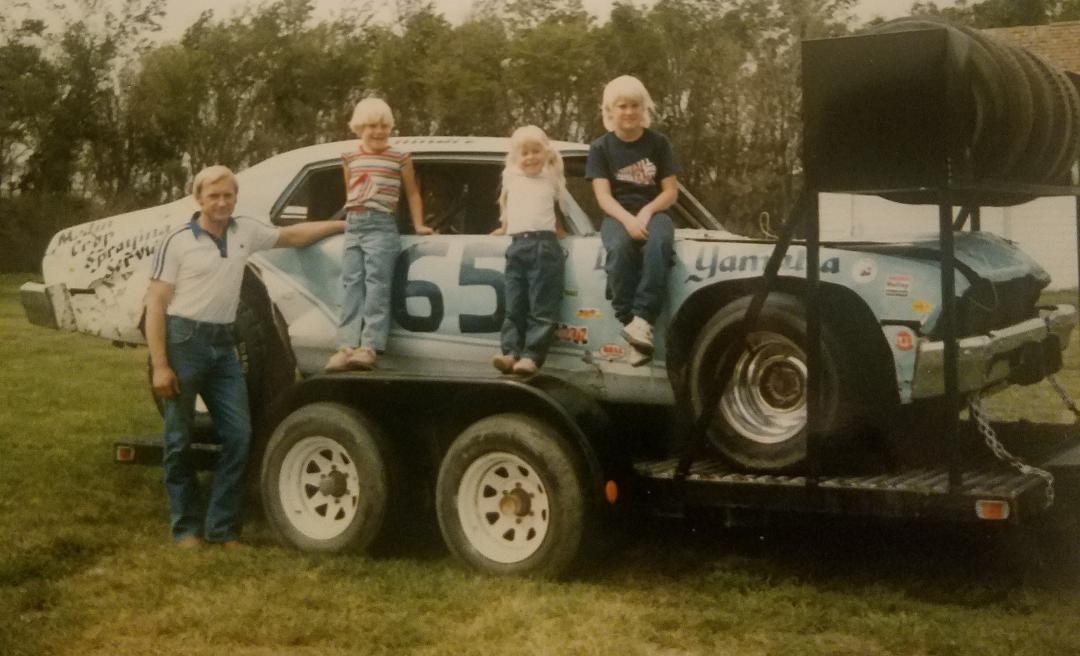 In the dead of winter on a farm in Kenmare, ND a Super Stock car was built to take to the Nodak Speedway track in 1984. Ralph Modin and Duane spent endless hours trying to figure out what was all needed to get this 1966 Chevelle ready for the track. It started out that Ralph and Duane were going to alternate driving, but after Ralph drove the first weekend Duane ended up driving the rest of the year. So started Duane Thelen's driving career. With his family hanging right on behind him.
In 1984 Duane drove the #66 Red Chevelle and was awarded "Most Improved Driver" that year. Then in 1985 he built his own car for the Super Stock Division. It was a Nova body with a 350 Chevy engine and a Ford 9" rear end. Completing his year with 2 Feature wins, a Harvest 100 Champion and Runner-up Champion. The love for racing only grew deeper and more powerful. Working a full time job as a diesel mechanic at the Farmers Union and helping on the farm didn't leave much time, but somehow Duane managed with the help of his pit crew DuWayne Gilseth, Dave Geyer, Peter Johnson and Nick Thelen and later Duane Sandberg.
1986 was the first year for the Dakota Modified. Duane and his crew wanted to start this season with a new car, so they built their first Dakota Modified with a 350 Chevy engine, Ford frame and rear end to hug those corners. It all paid off as they took the Harvest 100 Championship. Duane learned a lot that year as things had changed from one class to another.
Racing got a lot tougher but it is all in a learning curve. 1987 they took Mid-Season Championship and Season Championship in the Dakota Modifieds. Daune says, "We" as he could not have done any of this without the help from his crew and sponsors Farmers Union Oil, Gravesen Aerial, Wayne's Bar, Nore's Body Shop and Sandberg Redimix. In 1988 they had one Feature win.
Months ran into years as this sport is very addicting. They raced at the Nodak Speedway in Minot, Estavan, Sask and Williston. 1990 they won the Harvest 100 Modified Runner-up and 1984, 1985, 1986 and 1987 (2) they took home Trophy Dashes.
Sportsmanship is a huge part in this sport. You have to mind your P's and Q's ON and OFF the track. Duane was proud to receive 2 awards for Sportsmanship in 1988 and 1991.
1992 was the last year Duane drove but the love of racing continues as a bystander now. There isn't a day that goes by where he doesn't have the urge to get back in behind the seat of one of those cars. He is very fortunate to have a race club so close to have the experience in his life as he has been given. Duane wants to thank you Nodak Speedway for the race of a lifetime.
Nodak Speedway Hall of Fame Nomination & Induction Process

HOW MANY INDUCTEES ARE INDUCTED INTO THE NODAK SPEEDWAY HALL OF FAME EACH YEAR
1 to 2 inductees
HOW ARE INDUCTEES SELECTED AND VOTED INTO THE NODAK SPEEDWAY HALL OF FAME?
The process begins with a 13 person Nominating Committee, who meets every December to select the list of 15 nominees.
Then a 20 person Voting Panel, which includes the members of the Nominating committee plus additional representatives, votes on one inductee from the list of 15 nominees. The Voting Panel submits a total of 21 ballots, which includes one ballot from a nationwide fan vote, to determine the five inductees.
The number of ballots submitted may change if any member of the Nominating Committee or Voting Panel appears on the previous year's ballot or current year's ballot. These individual are recused from participating in the nominating and voting process for as long as he or she appears on the ballot. If an individual is inducted, he or she will be automatically reinstated to participate on the committee the following year.
WHO IS ON THE NOMINATING COMMITTEE AND VOTING PANEL?
The nominating Committee consists of representatives from Nodak Speedway, General members, and Hall of Fame Inductees.
The Voting panel will consist of the members of the Nominating Committee, former Nodak Speedway Presidents, Reigning Champions, and the Fan vote.
**NOMINATING COMMITTEE & VOTING PANEL LIST WILL BE POSTED EVERY YEAR**
Eligibility for the Nodak Speedway Hall of Fame
DRIVERS

Participated in competition for minimum of 25 years

Must be retired for 3 years

If driver has raced for 40+ years, they do not need to be retired

CAR OWNERS

Has had a car in competition for minimum of 25 years

PITMAN

Has wrenched for a minimum of 25 years

Must be a type of person who will help anyone

BOARD MEMBER

Must have served the maximum terms set forth according to the current Nodak Speedway bylaws

Has held a minimum of 2 different positions

OFFICIALS
VOLUNTEERS
EMPLOYEE

Must have volunteered their time for the club for minimum of 25 years

Must be retired for 3 years

If officials, volunteers, or employees have committed their time for 35+ years, they do not need to be retired

SPONSORS/DONATOR

Must have sponsored or donated to the Nodak Speedway for a minimum of 15 years

FAN

Must have attended the Nodak Speedway races for a minimum of 30 years

ALL NOMINEES

Must have held a Nodak Speedway membership

Must be minimum of 50 years old

Individuals may also be considered who made significant achievements in the sport, but left the sport early due to a variety of circumstances
2019 NOMINATING COMMITTEE
(13 Person Committee)

Hall of Fame Chairperson

KADI RUBY

Nodak Speedway President

BRANDON BEETER

Current Nodak Speedway Board Member

RICK HUBER

Hall of Fame Inductee

DALE & BETTY NORDSTROM

Hall of Fame Inductee

TOM HENDERSON

Hall of Fame Inductee

RICK RODMAN

Hall of Fame Inductee

MARLYN KORSLIEN

Hall of Fame Inductee

LARRY SCHIMMELPFENNIG

Hall of Fame Inductee

LARRY MCFALL

General Member

CHRIS REUER

General Member

TIM ANDERSON

General Member

SCOTT & BONNIE JOERN

General Member

BECKY MEDLER
2019 VOTING PANEL
(20 Person Panel, 21 Ballots total)

Hall of Fame Chairperson

KADI RUBY

Nodak Speedway President

BRANDON BEETER

Current Nodak Speedway Board Member

RICK HUBER

Hall of Fame Inductee

DALE & BETTY NORDSTROM

Hall of Fame Inductee

TOM HENDERSON

Hall of Fame Inductee

RICK RODMAN

Hall of Fame Inductee

MARLYN KORSLIEN

Hall of Fame Inductee

LARRY SCHIMMELPFENNIG

Hall of Fame Inductee

LARRY MCFALL

General Member

CHRIS REUER

General Member

TIM ANDERSON

General Member

SCOTT & BONNIE JOERN

General Member

BECKY MEDLER

Reigning Champion –Hobby Stock

ANDREW BERTSCH

Reigning Champion – Stock Car

NATHAN BURKE

Reigning Champion – Sport Mod

ROBBY ROSSELLI

Reigning Champion – A Mod

ROBERT HELLEBUST

Reigning Champion – Sport Comp

CHRIS ZENZ

Past Nodak Speedway President

TBD

Past Nodak Speedway President

TBD

Fan Vote

Fans